Sacombank's dedication to sustainable development
15/09/2023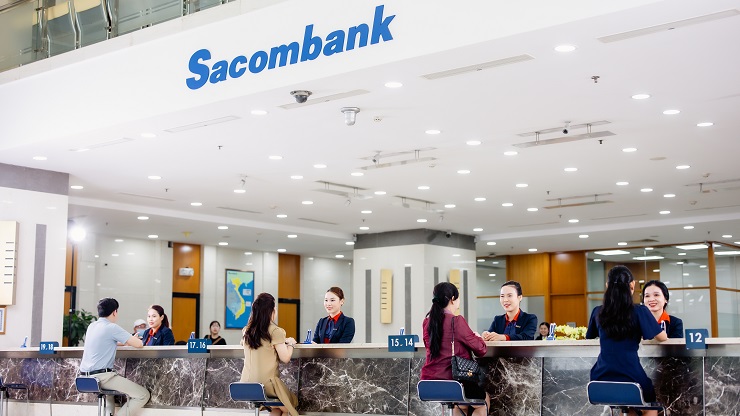 International standard risk management
In 2016, Sacombank was among the select 10 banks chosen by the State Bank (SBV) to pioneer the implementation of the Basel II Agreement. The Bank embarked on a comprehensive journey, from formulating policies and overarching guidelines to collaborating with domestic and foreign consultancy firms such as EY, PwC, Deloitte, to execute projects. It regularly evaluated the current state of affairs and assessed compliance levels of management, supervision, administration, databases, and information technology systems with Basel II standards. Notably, Sacombank initiated over 30 projects spanning all operational facets while enhancing the expertise of the project team and making bold investments in application software systems tailored to the Bank's operations.

By early 2021, Sacombank successfully completed and implemented the entire Basel II Agreement according to the SBV's established roadmap, marking a significant stride in the Bank's risk management initiatives. Sacombank's capital adequacy ratio (CAR) consistently hovers around 9%, striking a balance between operational security and business efficiency. The Bank employs a risk management framework based on the three-line-of-defense model. Under this approach, Sacombank defines the supervisory roles and responsibilities of senior management in the Bank's business operations and risk management. It operates the internal capital adequacy assessment process (ICAAP), encompassing the identification and measurement of key risks (credit risk, operational risk, market risk) and other types of risks (interest rate risk on banking books, concentration risk, etc.). This process also includes formulating appropriate stress test scenarios to gauge capital impacts under normal and stressed conditions, enabling the Bank to create suitable capital plans and allocations.

Building on this foundation, on 07/6/2023, Sacombank officially launched the project "Implementing Basel III and Strengthening Risk Management Capacity" with guidance from EY Vietnam Consulting Joint Stock Company. The aim is to elevate risk management activities to even higher standards. With this project, Sacombank is poised to establish an organizational structure for risk management in accordance with industry practices and strategies, enhance asset and capital quality to ensure stable and sustainable business operations, and meet the increasingly stringent demands of the banking sector. It will bolster the process of risk identification, measurement, monitoring, control, and mitigation while cultivating human resources equipped with modern information technology systems.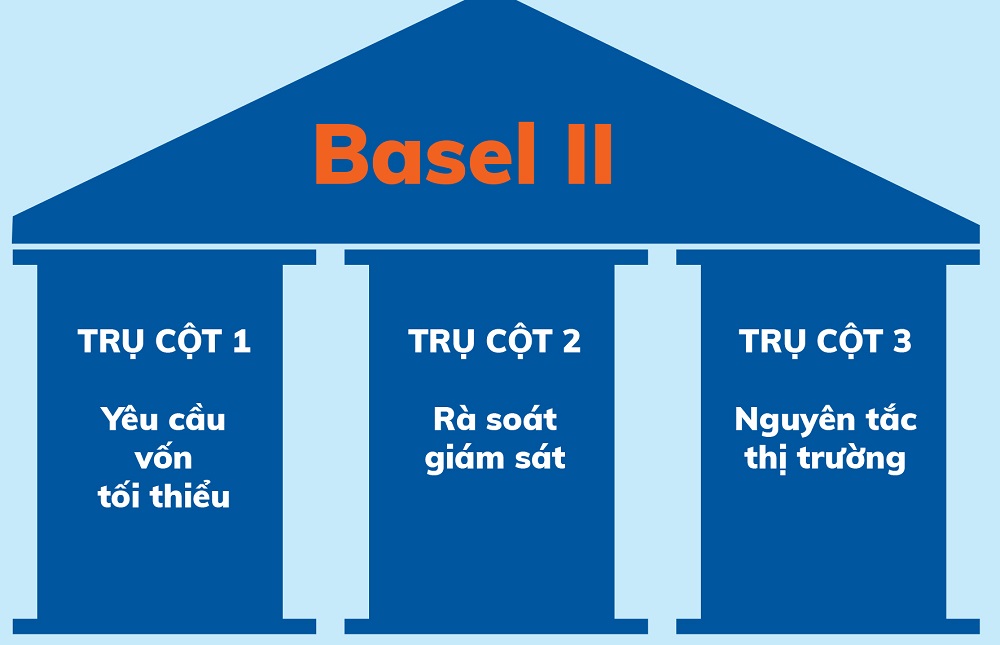 Mr. Pham Van Phong, Vice Chairman of the BOD of Sacombank, stated, "Sacombank clearly recognizes the importance of implementing Basel III and enhancing the risk management system's capabilities. This is a key factor that will help Sacombank complete the restructuring project, optimizing all business activities while maintaining safety and operational efficiency."
"In the face of mounting risks and operational challenges in the banking sector, the implementation of Basel III and the imperative to enhance the risk management system exemplify Sacombank's long-term strategic vision. This vision extends beyond mere compliance and financial safety, emphasizing the effective application of risk management in strategic and business decisions to foster sustainable development and align with international standards in the long run," shared Ms. Nguyen Thuy Duong, Chairman of EY Vietnam Consulting Joint Stock Company.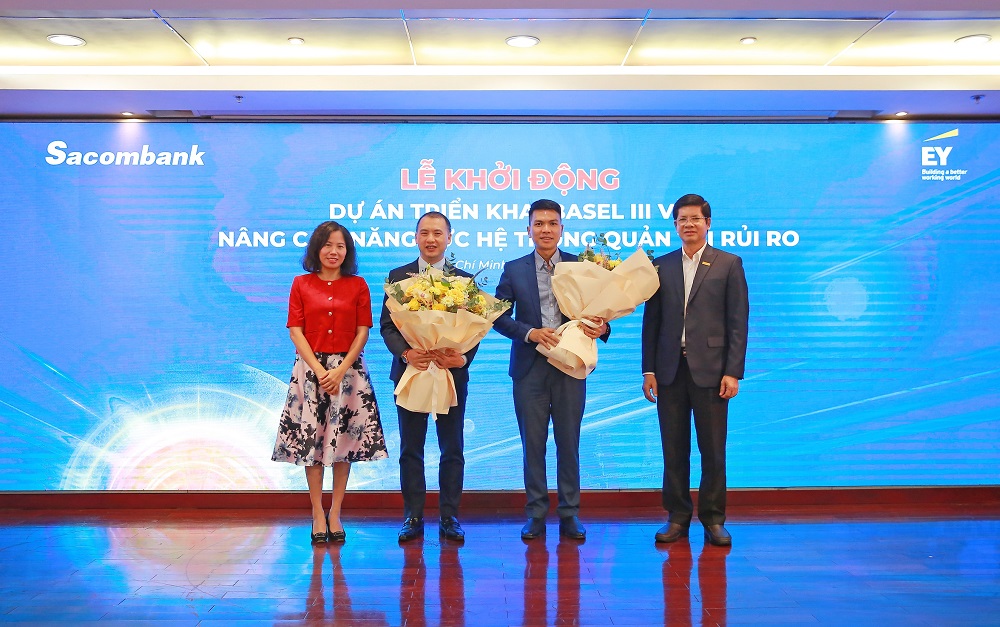 Launching ceremony of the project " Implementing Basel III and Strengthening Risk Management Capacity" of Sacombank
Optimizing Credit Management
Credit, as one of the cornerstones of banking activity, plays a pivotal role in providing capital for production, business, and consumption, thereby fueling economic operations. The quality of credit-granting activities serves as a litmus test for a bank's "health." Consequently, Sacombank places significant emphasis on enhancing its capabilities in credit appraisal, approval, management, and credit risk management.

A pivotal element in this endeavor is the credit initiation, approval, and management system (LOS) introduced by Sacombank on 11/3/2019. This system digitizes the entire credit-granting process, approval of disbursements, and standardizes all data. It bolsters information security features, thereby enhancing risk management capacity at Sacombank. The LOS system automatically generates reports and forms, facilitating document circulation at each approval level and minimizing the risk of improper approvals. It contributes to the reduction of paper usage while seamlessly integrating with other Sacombank systems, enabling users to access customer transaction history information swiftly and efficiently.

The advanced features of the LOS system have empowered Sacombank to successfully deploy the centralized approval and disbursement model. Management levels at the Head Office, regions, branches, and transaction offices leverage LOS as a supportive tool for remote monitoring and credit file risk management. They gain clarity on various aspects, including the credit transaction status of each customer, group customers, the status of application processing, approval implementation, and limit utilization. This facilitates timely direction and adjustment.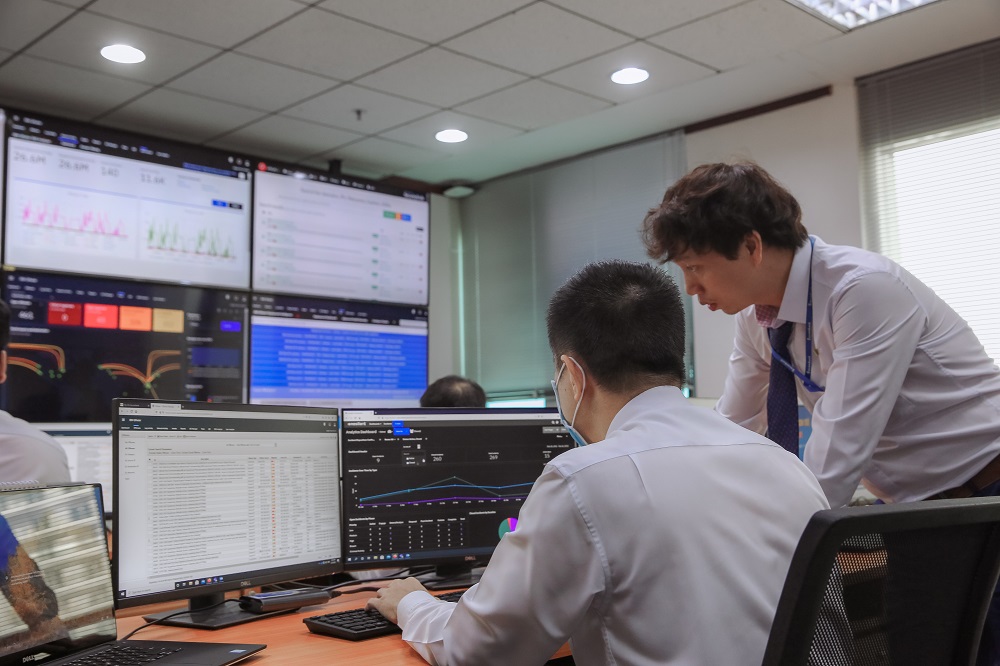 Capitalizing on this foundation, Sacombank optimizes credit growth within the limits established by the SBV, with a focus on balancing and judicious management during each period. By the end of the first eight months of 2023, the Bank's outstanding credit balance reached more than VND 468 trillion, marking an almost 7% increase compared to the start of the year. Credit quality and structure continue to improve, with disbursements primarily geared towards meeting the capital needs of production and business, while real estate loans are under strict control.
Enhancing Financial Capacity
During the first eight months of 2023, Sacombank's total assets expanded significantly, maintaining its position in terms of scale. Total assets surged to more than VND 635 trillion, a growth of over 7% compared to the beginning of the year. Asset quality demonstrated a remarkable improvement, with profitable assets increasing by 9.4%, accounting for 91% of total assets. Additionally, profitability witnessed a substantial increase, with ROA and ROE reaching 1.21% and 18.13%, respectively, marking a 0.3% and 4.3% upswing compared to the previous year. Sacombank also reinforced its control over the quality of risky assets, undertaking regular reviews and evaluations of key risk portfolios, risk appetite, and stress tests to comprehensively assess the ability to meet capital adequacy ratios even under the most strenuous scenarios. This enables the Bank to formulate appropriate capital plans and allocations. As of 31/8/2023, Sacombank's equity stood at more than VND 43 trillion, signifying an almost 12% increase, primarily stemming from undistributed profits. The charter capital, amounting to VND 18,852 billion, accounts for 43.7% of the Bank's equity. The capital structure for mobilized funds ensures liquidity safety, with the Bank's total mobilization exceeding VND 558 trillion, a growth of over 7% compared to the beginning of the year. Notably, mobilization from economic organizations and civilians increased by over 11%, capturing 4.2% of the entire industry market share.

Concurrently, Sacombank actively diversified revenue sources through non-credit activities, with a particular focus on digital banking and foreign exchange services. This strategic move bolstered total income significantly compared to the previous year. Sacombank's total net income in the first eight months of 2023 reached nearly VND 17,500 billion, marking a 9.3% increase. Operating costs remained under strict control, and the consolidated pre-tax profit surged to VND 6,157 billion, a 56% increase compared to the same period last year, achieving 65% of the plan outlined by the General Meeting of Shareholders.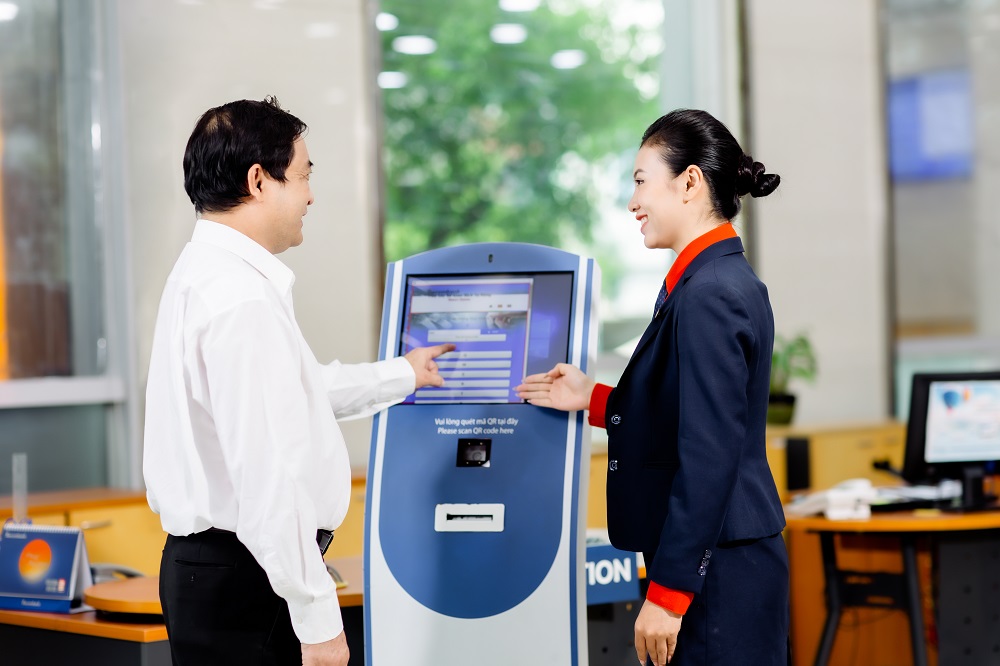 Sacombank promotes digital banking development, contributing to diversifying non-credit revenue sources
Commitment to Community Development
Since its inception, Sacombank has consistently spearheaded meaningful volunteer initiatives, such as "Spring Warmth," which brings the Tet holiday to vulnerable individuals, the "Nurturing Dreams" scholarship program supporting educational development, and the cross-country tournament "Run for Community Health," which encourages physical exercise.

In recent years, Sacombank has taken additional steps to engage in remarkable humanitarian activities, including the "Sharing from the Heart" blood donation campaign to alleviate blood shortages at medical facilities, organized walking/jogging tournaments "Steps for the Community" to raise funds for the construction of community cultural houses for ethnic minorities. The "Together with Sacombank, create the future" program offers final year students the opportunity to experience a practical working environment and develop professional skills.

Particularly noteworthy is Sacombank's response to the Covid-19 epidemic that spanned from 2019 to 2022. The bank devoted hundreds of billions of VND to collaborate with the government, SBV, and various other agencies and organizations across the nation to prevent, combat, and recover from the epidemic's consequences.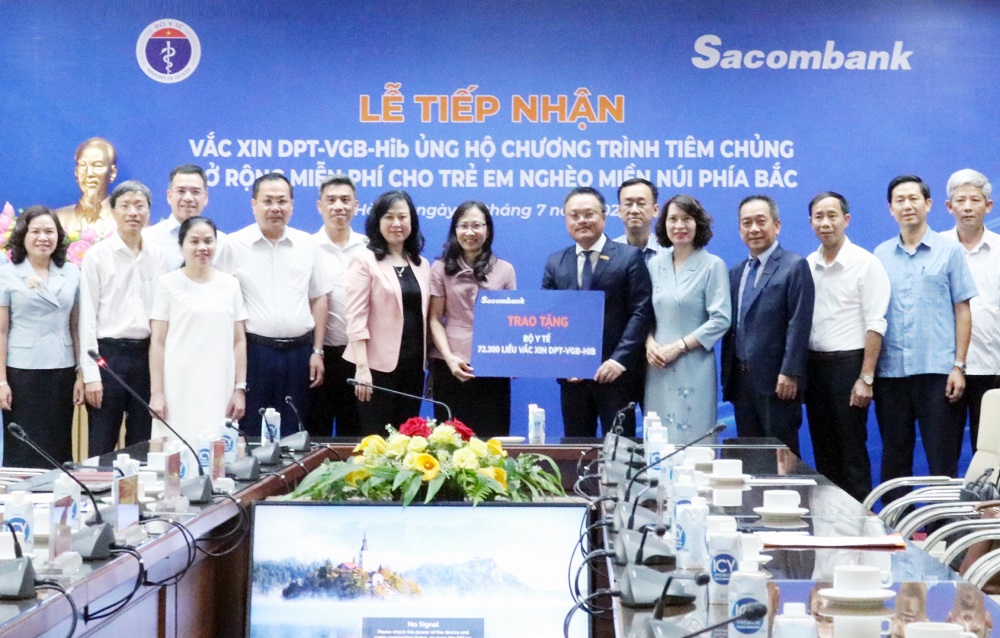 The vaccine reception ceremony was attended by Ms. Dao Hong Lan - Minister of Health
Furthermore, Sacombank actively contributed to the "For the Poor" and "Sun of Hope" funds, providing support for underprivileged children in their battle against cancer. It executed the "Wave and computer for children" program, facilitating a conducive studying environment for students facing challenging circumstances. The Bank actively participated in the "Expanded vaccination for children and women nationwide" program initiated by the Ministry of Health and extended support to people in the Central provinces to help them rebuild their lives after floods.
These tangible achievements and quantifiable figures underscore the efficacy of Sacombank's operational strategies. Bolstered by adaptability, creativity, and a keen understanding of market trends, Sacombank is on track to complete its restructuring initiative by early 2024, ushering in a new era of growth and creating enduring value while continuing its journey toward sustainable development.
2023 marks the seventh year of Sacombank's restructuring journey in line with the approved plan. The bank achieved a significant milestone by successfully processing VND 21,576 billion in accrued interest the previous year. Building on this momentum, Sacombank remains committed to collecting and addressing bad debts, accumulating nearly VND 2,700 billion. This brings the total recovery and resolution to VND 90,600 billion since the plan's inception. Moreover, as of 31/8/2023, Sacombank has made full risk provisions, in accordance with regulations, for all bad debts and outstanding assets, including VAMC bonds. Cumulatively, since the inception of the Appropriation and Allocation Project, this figure stands at nearly VND 35,600 billion. With these positive developments, there is a promising outlook for Sacombank to complete its restructuring project ahead of schedule.