Sacombank has launched a loan package of VND 30 trillion with significantly reduced interest rates to support individual customers
09/08/2023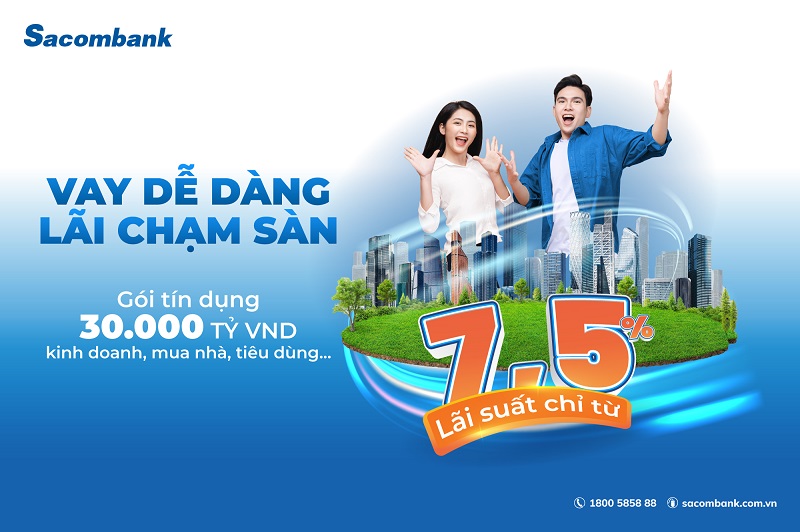 Specifically, Sacombank has allocated VND 20 trillion for customers seeking short-term capital for production and business purposes (including agricultural production), offering low interest rates of only 7.5% per year. For consumer loans, Sacombank has dedicated VND 10 trillion for various purposes such as purchasing, constructing, repairing real estate, and addressing different consumer needs, with interest rates starting from only 9% per year. Notably, customers purchasing their first house can benefit from interest rates as low as 8% per year.
The key advantage of this package lies in its ability to fulfill 100% of customers' capital requirements, offering flexible loan terms that can extend up to 30 years.

Sacombank also provides numerous other privileges and benefits, including the ability to open an account with a customized number, issuance of credit cards at no cost, and cashback rewards on payment card transactions.

Since the beginning of the year, Sacombank has introduced several highly advantageous loan packages. These initiatives are part of Sacombank's commitment to facilitate easier access to credit sources for individuals, offering favorable interest rates that support sustainable development goals. This effort contributes to market expansion and fosters overall economic growth.

For more information, please contact Hotline 1800 5858 88 or visit website sacombank.com.vn.