Sacombank offers preferred promotion for customers receiving remittance by Visa Debit Card
06/04/2023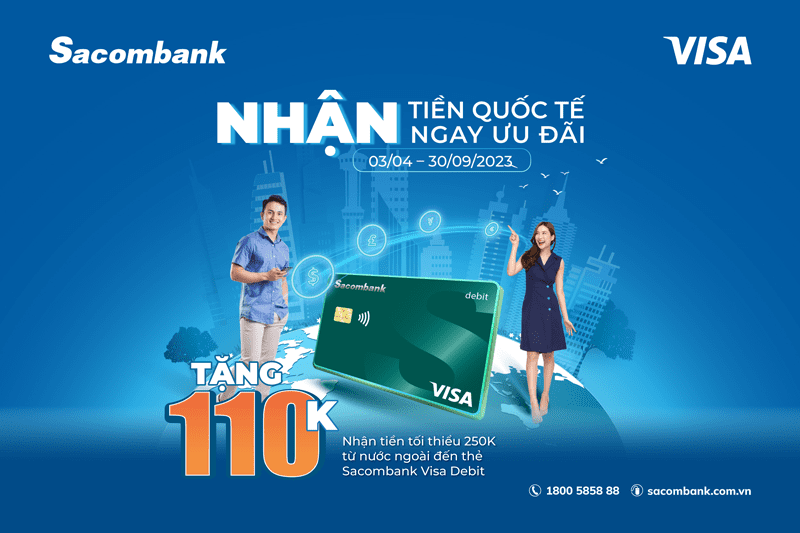 Offer applies to money transfers from overseas to Sacombank Visa Debit cards issued in Vietnam with a minimum conversion amount of VND 250,000. At that time, Sacombank Visa Debit cardholders will be given VND 110,000. Each customer is eligible to the promotion once during the program's implementation period.
In addition to the methods of transferring money from abroad to Vietnam and receiving it at home, at the bank, via an account or at an ATM, Sacombank Visa Debit cardholders can also receive money transfers from overseas Visa cards or through agents. Easy, fast and free MoneyGram/Remitly management. After the remitter completes the procedure of entering the recipient's information and Sacombank Visa Debit card number, the cardholder will receive the money in the card account at a competitive foreign currency exchange rate without any further authentication steps.
Remitters can easily find remittance partners at: Discover Remittance Partners | Visa. Then access the application/website of these partners to make the money transfer order.
Sacombank Visa payment card is a smart payment means integrated with many outstanding benefits and incentives, helping to manage account flexibly anytime and anywhere (lookup information, transfer to account/card/ phone number, cash deposit to Sacombank card/account at Sacombank ATM, pay outstanding Sacombank credit card...). Cardholders can pay at millions of POS, pay at e-commerce sites and withdraw cash at ATMs worldwide.
For detailed information, customers please kindly contact hotline 1800 5858 88 or access to www.sacombank.com.vn.