Scan VietQR to easily withdraw money at interbank ATMs with Sacombank Pay
07/08/2023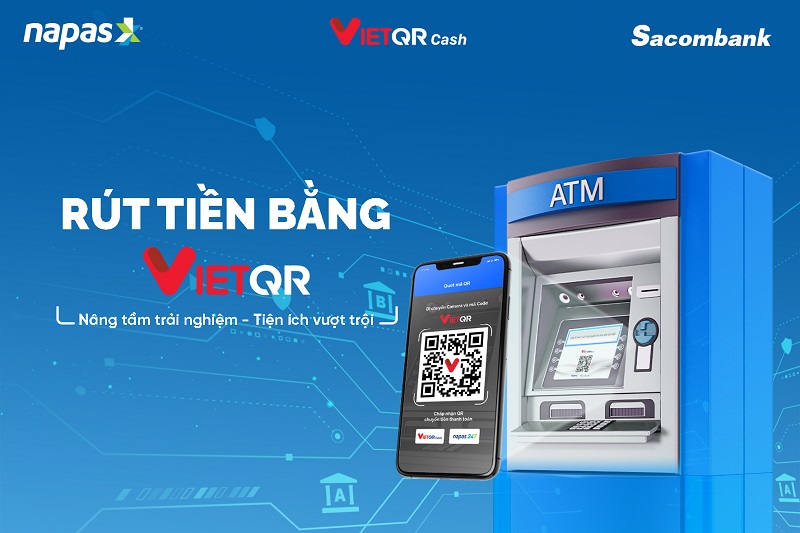 Currently, Sacombank stands out as one of the pioneering banks in the market by offering a feature that allows customers to utilize Sacombank Pay for scanning the VietQR code. This feature facilitates money withdrawals not only within the Sacombank ATM system but also across banks participating in the VietQR network. Conversely, applications from other banks can also scan the VietQR code to withdraw money from Sacombank's ATMs.
This feature offers customers the convenience of not relying on physical cards, encourages secure and swift transactions through mobile devices, and contributes to an elevated customer experience.
VietQR represents a unified brand identity for payment and transfer services via QR codes, processed through the Napas network. The QR code employed adheres to the QR payment standards of EMV Co. (a global organization overseeing EMV Specifications) and the Basic Standard for QR Codes issued by the State Bank of Vietnam.
In addition, Sacombank has incorporated several advanced technologies to successfully implement the eKYC feature within Sacombank Pay. This enables customers to effortlessly open accounts and debit cards directly through the app. Users can also link their accounts, cards, loans, and savings with Sacombank, as well as engage in various consumer finance transactions at any time and from anywhere, aligning with the trend of one stop bank.

Sacombank Pay serves as a versatile financial management application on mobile devices, ensuring the security of information in accordance with the PCI DSS standard, which is the highest certification for security and confidentiality within the global realm of credit card issuance and acceptance.

For more information, please contact Hotline 1800 5858 88 or visit website sacombank.com.vn.