Why are international card lines attracting users?
29/08/2023
According to the latest data from the State Bank, as of the end of the first quarter of 2023, the total number of international cards in circulation in Vietnam has surpassed 32.81 million cards. This number has doubled compared to the first quarter of 2020 and increased by more than 7.5 million cards compared to the same period last year. This substantial growth reflects the immense appeal of international card offerings, which dominate the payment and spending landscape.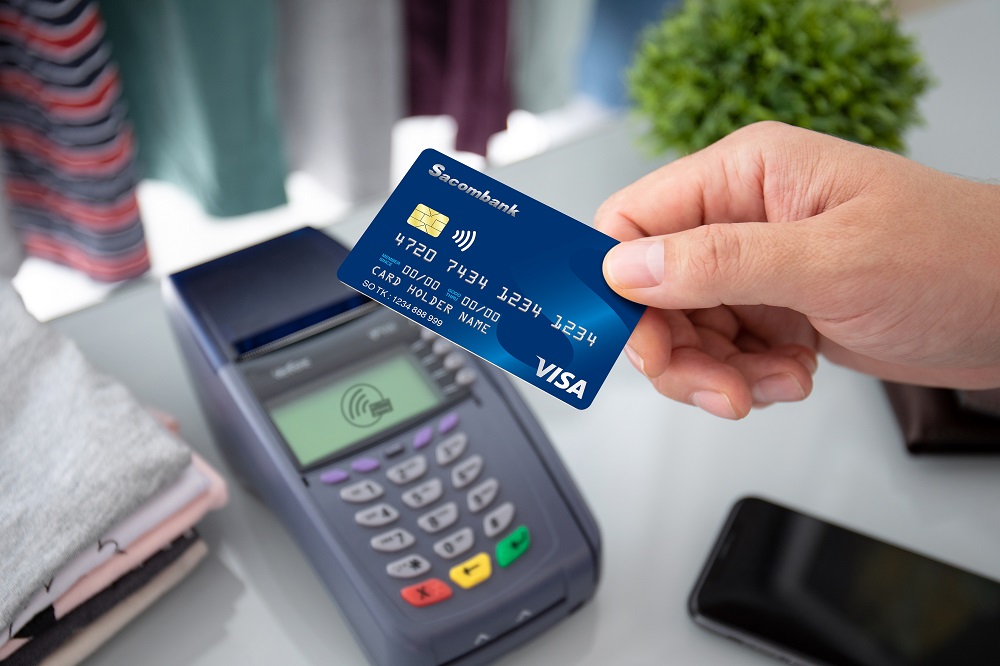 The growing popularity of international card lines among Vietnamese users.
Key Advantages of International Cards
One of the standout features of international cards, including prominent brands like Visa, Mastercard, JCB, and more, is their ability to facilitate payments anywhere, whether domestically or abroad. They support both in-person and online transactions, making them incredibly versatile. Currently, all international cards come equipped with chips, enabling fast processing and secure payments. The widespread acceptance of chip cards at various retail locations, coupled with contactless technology, enhances the convenience and security of electronic transactions. Banks can also develop digital applications and smart features for these cards, further enhancing their functionality.

In an era of growing digital technology, online shopping has become increasingly popular not only in Vietnam but also globally. Users can easily shop on domestic and international e-commerce platforms with just a few simple steps and online authentication.

For instance, with international payment cards/credit cards issued by Sacombank, users can shop on major e-commerce platforms like eBay, Amazon, and Taobao, offering a vast array of products from numerous brands to meet all their shopping needs.

International cards also offer significant advantages for travelers and expatriates. Cardholders can make transactions in any currency accepted by the card brand, eliminating the need to carry foreign currency in cash. Moreover, international cardholders can enjoy various incentives, such as discounted airline tickets, free lounge access, hotel room discounts, and more, especially during the upcoming occasion on the 2nd of September.

Notably, Apple Pay has recently been introduced in the Vietnamese market, allowing users to add Sacombank Visa international cards to their Wallet for secure and convenient payments.

Real Benefits - Spend and Earn
Using international cards for spending can also yield various incentives, as banks and card organizations/partners regularly offer practical incentive programs to cardholders.

For example, until the end of 2023, Sacombank is offering several incentive programs for international credit and debit card holders. New Sacombank Visa credit card applicants will enjoy a waiver of 100% of the issuance fee and lifetime annual fees upon reaching a specified transaction turnover. Cardholders who spend over VND 1 million will receive a refund of up to VND 500,000.

Customers using Sacombank Visa, Mastercard, or JCB debit cards for purchases at supermarkets and convenience stores totaling VND 1 million or more will receive a 2% refund, with a maximum of VND 300,000 per month. Additionally, Sacombank Mastercard debit cardholders who shop online have the opportunity to receive Shopee e-vouchers worth up to VND 200,000 each.

When booking hotels on travel platforms such as Agoda, Traveloka, and Booking.com, Sacombank Visa, Mastercard, and JCB credit cardholders can enjoy refunds or discounts ranging from 5% to 15%. Until 30/09/2023, customers using Visa cards to book flight tickets online will receive bonus points or miles. Specifically, they will receive 1,500 Bamboo Club bonus points or triple Golden Lotus bonus miles for travel between Vietnam and various Asian destinations operated by Bamboo Airways or Vietnam Airlines in 2023.

Furthermore, to welcome the new school year, students purchasing books and study equipment with Sacombank's international credit cards will enjoy attractive discounts and preferential treatment, valid until 30/09/2023. For instance, customers who spend VND 10 million on laptops or PCs/computer monitors at FPT Shop and Phong Vu systems will receive an immediate discount of VND 500,000. Those with bills of VND 5 million at Phong Vu will receive a discount of VND 200,000. Additionally, these electronic products are eligible for 0% installment payment incentives.

From now to 15/10/2023, customers who add a Sacombank Visa card and make their first payment transaction from VND 200,000 or more via Apple Pay will receive VND 100,000 instantly. With Sacombank Visa cards and Apple Pay, all payments become incredibly simple.