Sacombank meeting IBM to develop digital transformation
13/04/2023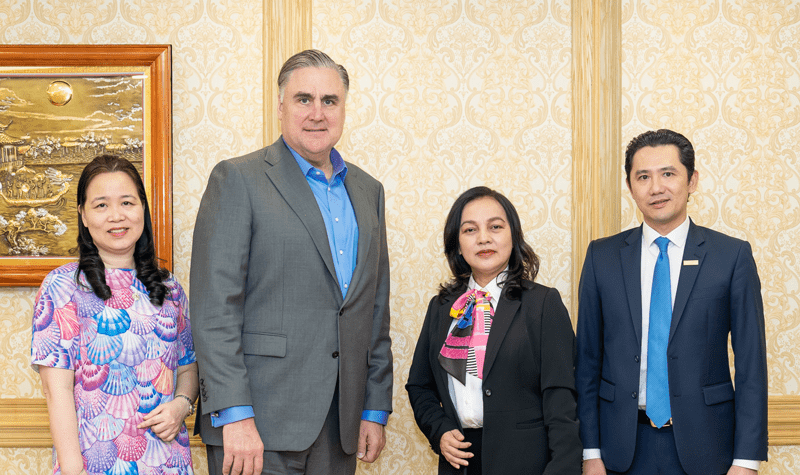 Digital transformation has been focused on by Sacombank since early and is one of the bank's key development strategies. "At Sacombank, people, processes and technology are the three main pillars in the digital transformation process. In which, the human factor and digital skills training are put on the top by Sacombank. This is both an opportunity but also a common obstacle that banks often face in the digital transformation journey", said Ms. Nguyen Duc Thach Diem, Permanent Vice Chairman of the Board of Directors cum CEO of Sacombank shared at the meeting.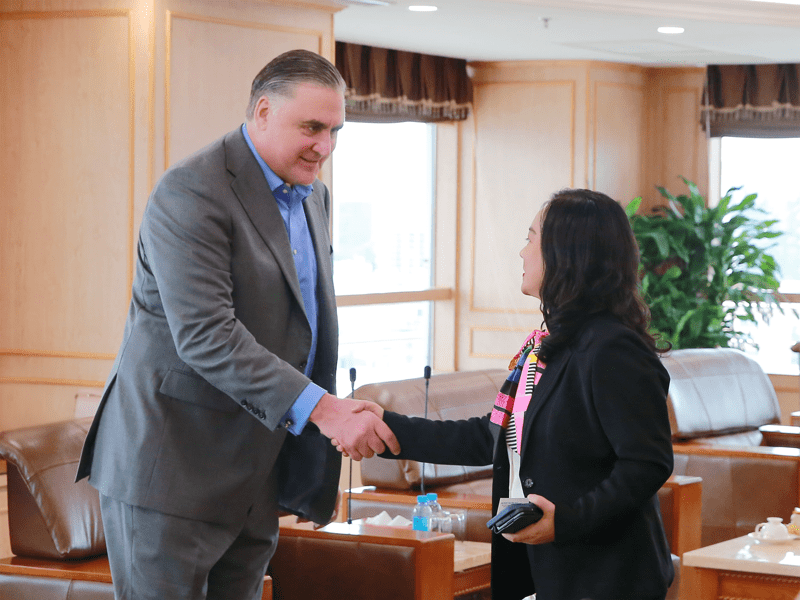 Leaders of Sacombank and IBM Corporation had an intimate meeting at Sacombank's headquarters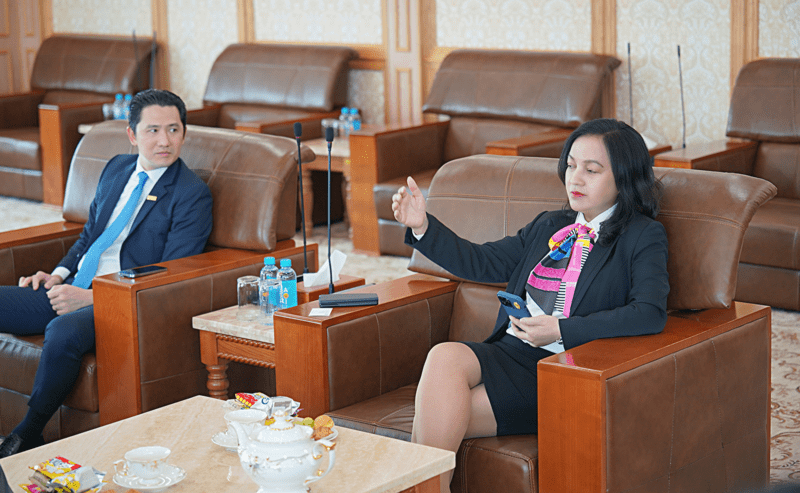 Ms. Nguyen Duc Thach Diem, Permanent Vice Chairman of the Board of Directors cum CEO of Sacombank shares about the bank's digital transformation strategy orientation
Recognizing digital skills as the core of digitalisation, Mr. Paul Burton, General Director of IBM Asia - Pacific said: "With experience in personnel training in Indonesia, IBM is ready to support Sacombank in training the bank's staff in an advanced method, from which they can provide knowledge and experience in digital transformation to each employee to capture a competitive advantage in the market".
Regarding processes and technology, Sacombank believes that these factors need to be deployed at the same time to ensure synchronization across the system, helping the bank to quickly catch up with world trends. To do this, Sacombank not only uses internal resources but also focuses on selecting and cooperating with well-known, reputable and experienced partners in this field. IBM is one of the strategic partners that Sacombank trusts to accompany on its digitization journey.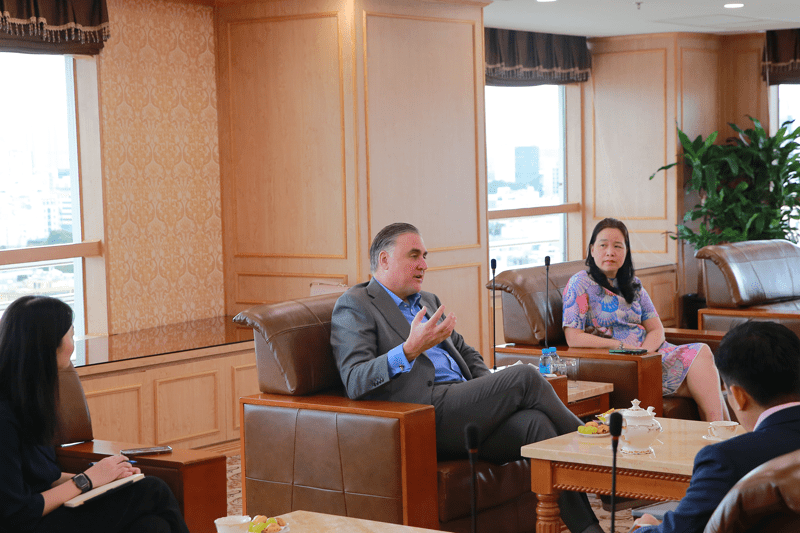 Mr. Paul Burton, General Manager of IBM Asia - Pacific speaking at the meeting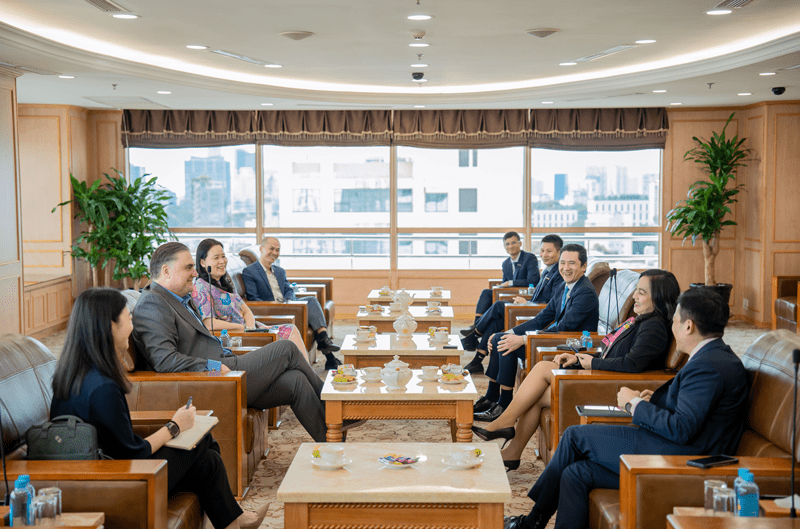 Sacombank and IBM Corporation meeting to share information on strategic cooperation program to accelerate digital transformation
Effective cooperation projects with IBM have been creating a breakthrough in Sacombank's business and operations. The bank has put into operation the Security Operations Center (SOC) according to international standards and technology transferred from IBM since 2021, in order to improve the security of the bank's information system. In 2021, Sacombank established the Digital Transformation Center (DTC), and at the same time operated the DTC with consultation from IBM Consulting according to the international standard roadmap. Possessing a team of highly qualified, experienced personnel and advanced working methods, DTC is considered the key to opening a "shortcut" for the bank's digital transformation roadmap.
As a result, a series of important projects have been implemented, typically the application of the IBM LinuxOne server to enhance the system's performance; pioneering in launching high-tech products and services such as international card with 1 chip Sacombank Mastercard Only One, transferring and receiving money from abroad via Sacombank Visa Debit card; Digitizing internal operations, reducing transaction and document processing time, etc. With outstanding efforts, Sacombank has created a diversified product and service ecosystem, serving 15 million customers, in that 50% is digital customers. Up to now, digital transactions at Sacombank reached 97% with the frequency of product usage continuing to increase and the customer satisfaction rate over 99%.
Sacombank's core system has been increasingly strengthened in quality. Thanks to that, Sacombank has reduced processing time by nearly 50%, speeded up and stabilized transactions by 80%. Currently, the bank's system capacity still has plenty of room to continue to develop and create many new digital products and services. Sacombank is always ready to bring superior financial solutions to serve tens of millions of our customers", shared Mr. Tran Thai Binh, Director of Information Technology Division and Director of Sacombank's Digital Transformation Center.
Talking about the long-term mutual support relationship between Sacombank and IBM that has been built over the years, Ms. Pham Thi Thu Diep, General Director and Head of Technology Division of IBM in Vietnam said: "IBM is very pleased to see accompanying Sacombank in the bank's digital transformation journey through effective cooperation projects, software to solutions that have been implemented to creating long-term value, in line with Sacombank's vision and strategic direction".
IBM plays an important role in accelerating the digital transformation of the financial services industry. The IBM system is at the center of 70% of global transactions, rated by 45 of the world's top 50 banks as a highly secure technology platform capable of serving a large volume of mission-critical work of organisations. In Vietnam, IBM affirms its position in the industry when bringing advanced technology solutions such as: Artificial Intelligence (AI); Hybrid cloud;… At the same time, IBM is also a leader in privacy and data security technologies, delivering innovative technological advancements as well as continuously innovating operations and upgrading products and services, helping meet customers' cross-platform modernization needs.