Sacombank starts the project of building digital business automatic foundation
12/04/2023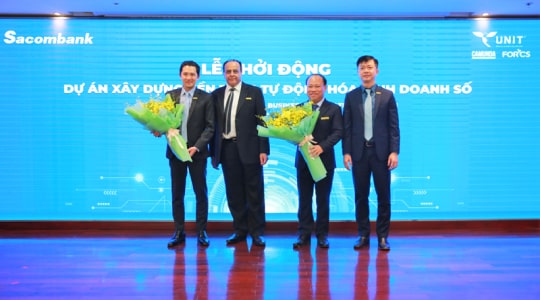 In the short-term orientation, Sacombank actively digitizes and optimizes operations by merging functional interfaces at counters by integrating with existing systems, simplifying and seamless work operations, reducing manual data entry and quick processing for end users of many other business processes.
In the medium term, the use of a digital business automation platform (Business Process Automation - BPA) with advanced technology not only helps Sacombank save resources and operating costs, but also shortens transaction processing time and design reasonable business processes around customer needs. In addition, the new generation of automation technology will also create a new professional environment for collaboration and coordination between banking units, helping to reshape the system of business rules in line with the needs of the banking industry. New business strategy, streamlined form but still ensure the ability to manage as well as the ability to change flexibly.
Recognizing the importance of digital business automation platform developing project and efforts to speed up the digital transformation, Sacombank chose the BPA platform of Camunda and UNIT Joint Stock Company as the implementation unit.
At the event, Mr. Tran Thai Binh, Director of Information Technology Division and Director of Sacombank's Digital Transformation Center said: "User experience is always the driving force for digital transformation at Sacombank. Combining the BPA platform with other advanced automation technologies, the bank will continuously optimize and redesign business processes with a customer-centric goal to create a perfect customer experience in the future at shortest time, improving customer service quality and productivity. I believe these strategic actions will help Sacombank catch up with the digital transformation trend that is taking place strongly globally."  Mr. Binh hoped that in the future, with Camunda's support and UNIT's implementation capacity, the vendors would support Sacombank to operate the BPA platform most effectively as well as cooperate in deploying more modern technologies.
Sharing at this signing event, Mr. Le Hoang Son –General Director of UNIT expressed: "UNIT is very honored to accompany Sacombank, one of the joint stock commercial banks that is always a pioneer in applying modern technology in operation. With the experience of cooperating with many reputable financial partners in the Vietnamese and foreign markets, UNIT is confident that it can understand the current needs and goals that Sacombank is aiming for when implementing BPM. At the same time, we are committed to doing our best to bring the best results on Sacombank's digital transformation journey," said Mr. Son.
Identifying technology is strategic action of its development strategy, in 2021, Sacombank established a Digital Transformation Center (DTC), and at the same time operates DTC with new thinking and new ways of doing things. Possessing a team of highly qualified, experienced personnel and advanced working methods, DTC is considered the key to the Bank's digital transformation roadmap. In just a short time, a series of important projects have been implemented such as: Omnichannel digital banking platform; high-tech products and services such as international cards with 1 chip Sacombank Mastercard Only One; automated trading machines; data quality governance framework; Microservices architecture system and APIs ecosystem…
With outstanding efforts, Sacombank has created a diverse ecosystem of products and services, serving 15 million customers. Up to now, digital transactions at Sacombank reached 97% with the frequency of product usage continuing to increase and the customer satisfaction rate over 99%.
More information:
Camunda BPA is a business process automation platform from Germany with outstanding features and is widely used by businesses globally and is one of the most popular BPA solutions today. FORCS specializes in providing solutions to digitize forms, documents and manage electronic information from Korea. The Forcs eForm solution contributes to the rapid digitization of forms and documents and increases operational flexibility.