Awarding Mercedes for insurance customers at Sacombank
23/05/2023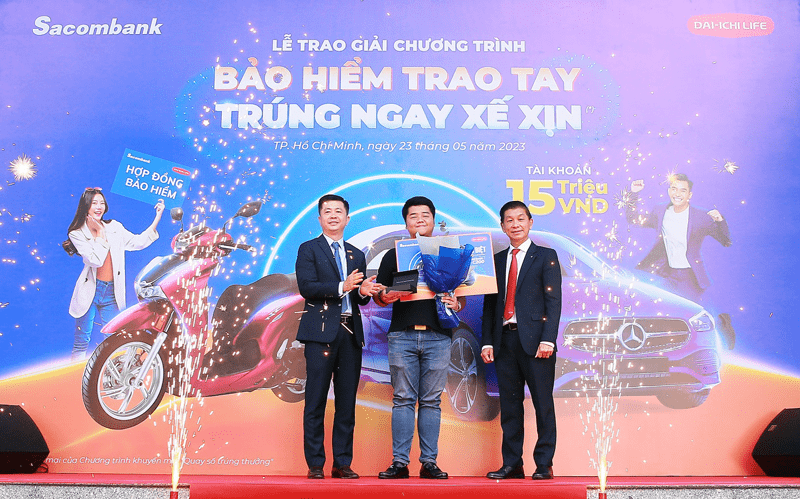 Leaders of Sacombank and Dai-ichi Life Vietnam handed the special prizes to Mr. Vo Tan Minh Hoang
In order to provide customers optimal financial protection solutions in the future along with practical values for present life, "Join life insurance – Win a luxury car" was one of the biggest program of the year with many valuable rewards, jointly implemented by Sacombank and Dai-ichi Life Vietnam for customers who joined a new insurance contract from 20/02/2023 to 30/04/2023. Specifically, customers had a first-year premium (FYP)/contract from VND20 million will receive a code to participate in the draw. The drawing ceremony took place on 15/05/2023 at Dai-ichi Life Vietnam's head office. The list of winners has been announced on the website www.sacombank.com.vn and www.dai-ichi-life.com.vn. 

Mr. Vo Tan Minh Hoang said: "I decided to join Dai-ichi Life Vietnam insurance after receiving very clear advice from Sacombank about the benefits, rights and fees suitable for my financial situation. I was very surprised and happy when I became the luckiest customer to win the Special prize of the program. Thus, my family not only has insurance protection but also has a modern means of transportation."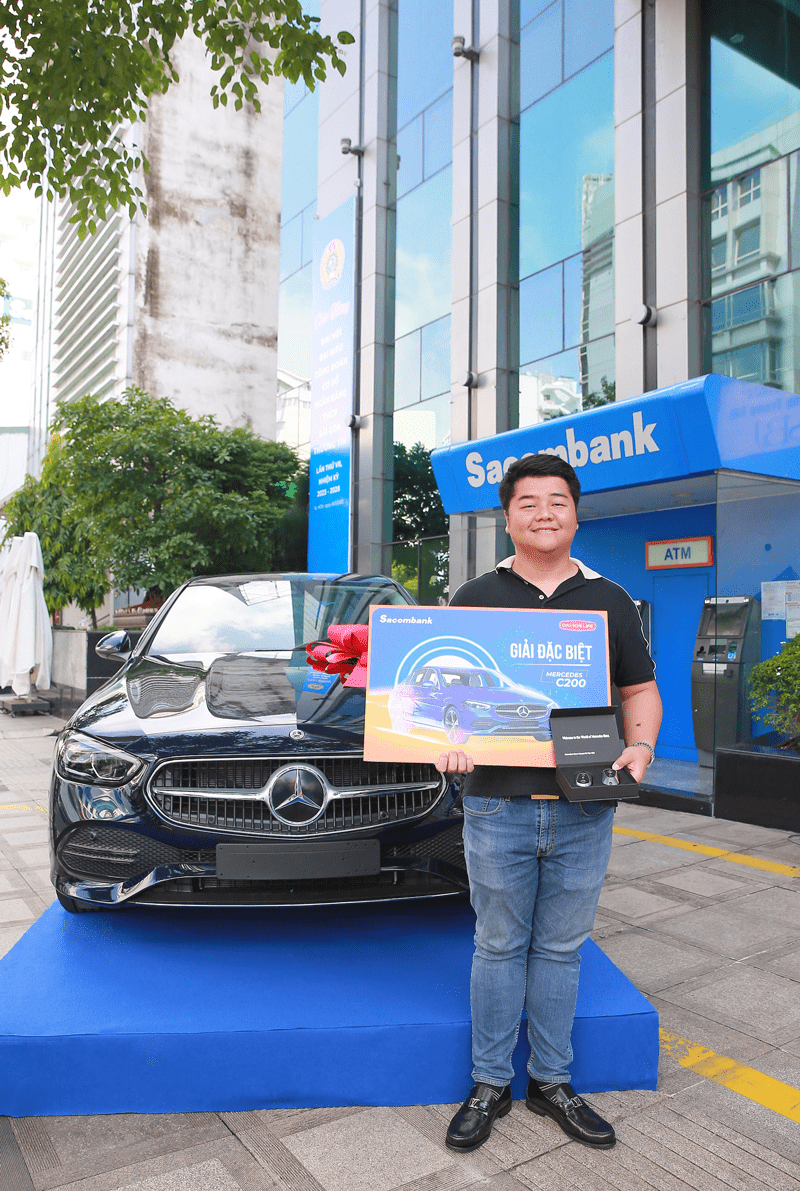 Mr. Vo Tan Minh Hoang and the Mercedes C200
"The essence of insurance is protection, a backup financial source when unfortunate situations occur. It's important to understand this before signing an insurance contract. I choose to participate in insurance through the bank to get the most optimal financial advice and solution. Along with the award, Sacombank has brought a lot of practical benefits to my life," Ms. Nguyen Thi Hong, the first prize winner, said at the award ceremony.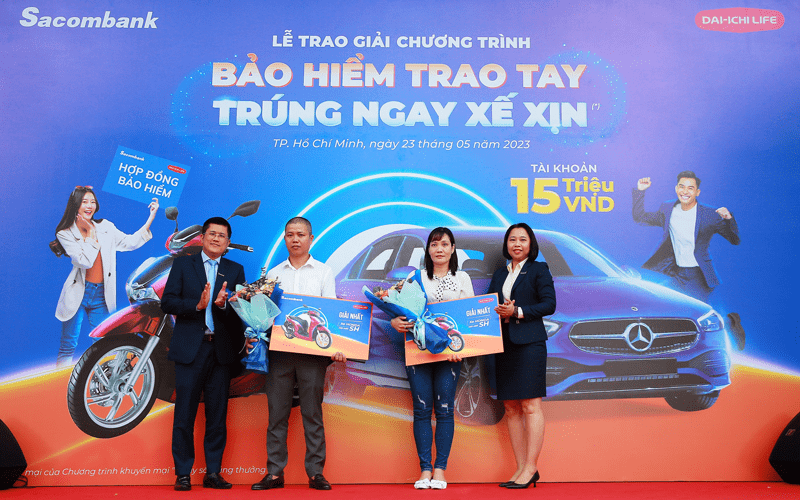 Sacombank leaders handed the first prizes to 2 customers in HCMC.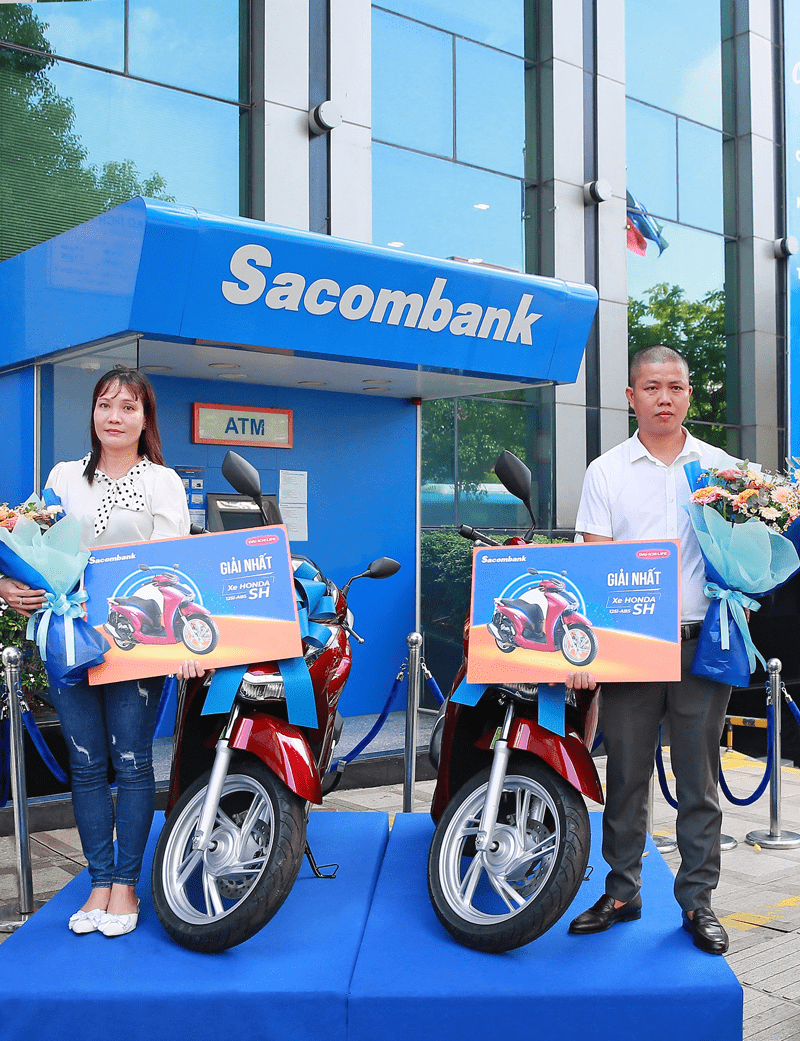 Ms Nguyen Thi Hong and Mr.Nguyen Trung Doan and their Honda SH 125i ABS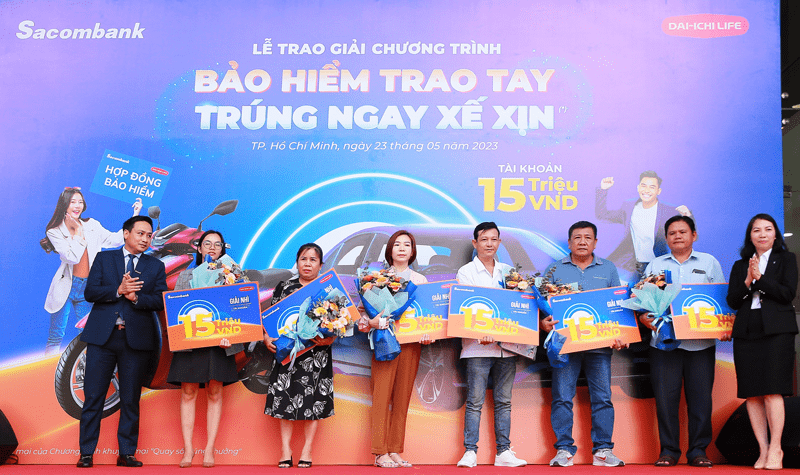 Leaders of Sacombank and Dai-ichi Life Vietnam handed second prizes to 6 customers in HCMC.
In parallel with the promotion program "Join life insurance – Win a luxury car", Sacombank and Dai-ichi Life Vietnam also implemented the program "Refund fee for installment conversion of renewal insurance contracts" for customers. Individual customers using Sacombank international credit cards to pay the renewal premium (2nd year, 3rd year) and register for installment payment according to the bank's regulations will be refunded installment conversion fee. The total value of the two promotions is up to VND4.4 billion.

Sacombank and Dai-ichi Life Vietnam "shake hands" to cooperate exclusively in distributing insurance via banks (bancassurance) from 06/09/2017. After 5 years of cooperation, the two bussineses are taking care of financial planning for more than 460,000 families with the 2nd year contract retention index reaching more than 85% - this is one of the quality measures of initial consultation and after-sales service of Sacombank. Up to now, Sacombank and Dai-ichi Life Vietnam have paid insurance benefits to more than 19,9150 customers with an amount of up to VND329 billion. During the cooperation, the two businesses are constantly improving and updating new technology trends to optimize customer experience, improve governance capacity and develop sustainably. Incentive mechanisms are deployed throughout, up to 30% cashback for new insurance contracts, 0% installment conversion fee refund when paying premiums and many attractive gifts and promotions to bring the best value to customers.