Sacombank to host final cast lots event of " Vui Xuan Don Loc - Mo The Phat Tai" promotion
22/04/2016
The "Vui xuan don loc – Mo the phat tai" promotion was launched from 4th January to 31st March 2016 by Sacombank for international credit cardholders who transacted from VND 500,000 in January, February and March 2016. The total prizes included: 3 Visa Prepaid credit card valued VND 30 million/card (Special prize); 15 Visa Prepaid credit card valued VND 3 million/card (Lucky prize).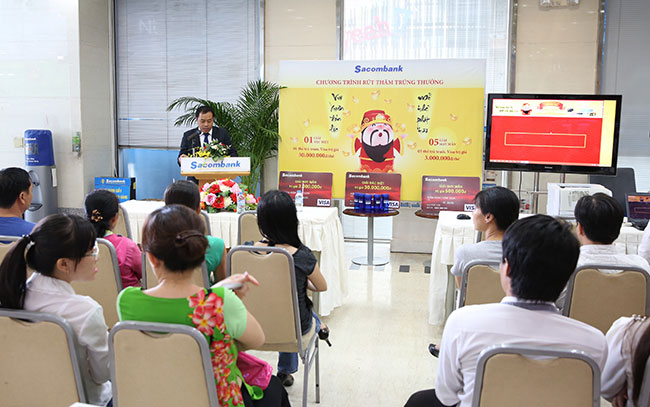 Mr. Le Nguyen Khoa Nguyen – Deputy Director of Sacombank Card Centre speeches at the event.
Sacombank international credit card is modern payment method that allowed cardholder to pay based on the holder's promise, 55 days free interest without pledges. cardholders are available for payment, international cash withdraw; online shopping, building credit rating for gifts; 0% interest hire-purchasing; discounting up to 50% at hundreds transaction point accepting Sacombank card.
For more detail, please contact Sacombank at 1900 5555 88/ +84 3526 6060, www.khuyenmai.sacombank.com or email ask@sacombank.com