An opportunity to win a Galaxy Note 8 smartphone when spending on a Plus card with Samsung Pay
06/10/2017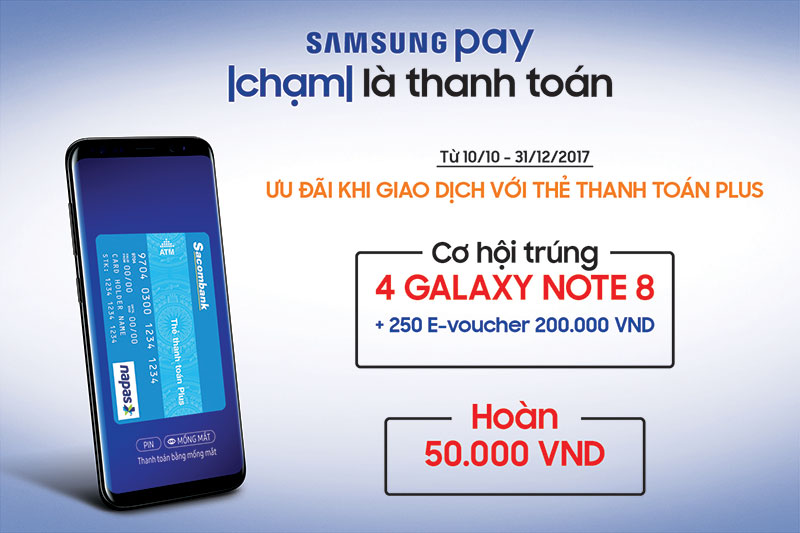 The prizes include 4 Samsung Galaxy Note 8 smartphones, 250 Esteem gift vouchers worth VND200,000 per voucher accepted at 440 merchants for dining, shopping, etc. nationwide. Simultaneously, 3,000 Plus cardholders having the first and soonest spending from VND100,000 and above with Samsung Pay will be returned VND50,000.    
Samsung Pay is a mobile payment app used only for Samsung's smartphones/tablets that helps customers to add their cards to the devices and pay quickly, securely at any point of sales by tapping the device on POS instead of using a card. For Sacombank's card, Samsung Pay is firstly applied for Plus cards and then for Sacombank's Visa and MasterCard cards from 2018. The Samsung Pay icon is shown on the device when the device software is updated the latest software (the list of devices running Samsung Pay app can be seen at www.samsung.com/vn/samsungpay/). In order to use Samsung Pay, cardholders can register for a Samsung account when signing in the app for the first time as follows:
Step 1: To create a Samsung account.   
Step 2: To choose the transaction verification method: a PIN code, or fingerprint scanning or iris scanning (it depends on a type of smartphone used). 
Step 3: Enter the card details (including a full name of a cardholder, a card number) manually or taking a picture and save the front side picture of the card in the app. 
Step 4: Cardholders will receive a text message providing a verification code (SMS message is sent to the mobile phone number registered when opening the cards). After entering the code, cardholders will be ready to use Samsung Pay with the selected card. 
When making a payment at merchants with Samsung Pay, cardholders open the app and choose the card (Plus card/Visa card/MasterCard card of Sacombank), then verify transactions by the method chosen when registering for the account and tap the Samsung smartphone on POS to complete the transaction.