Enjoying Festival Season with Sacombank's international credit cards
20/11/2017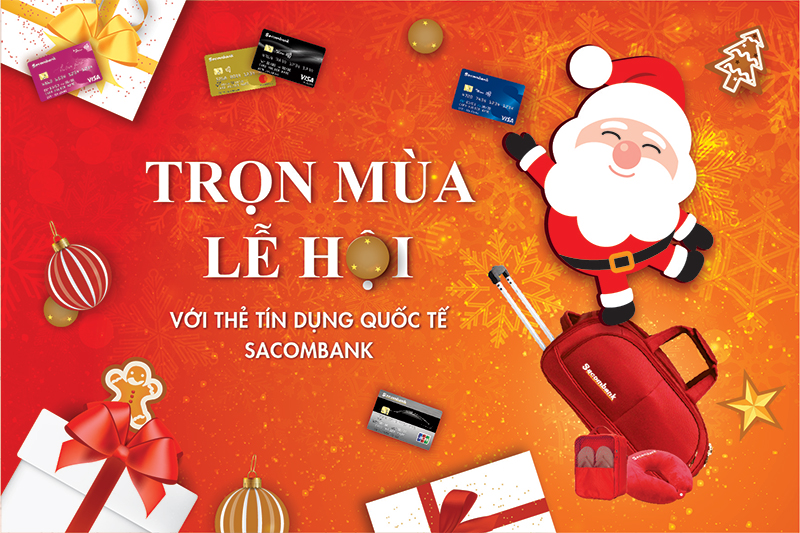 Customers opening new cards and spending at least 1 million dong within 15 days from the date of card activation will receive a gift set including 1 travel bag, 1 multi-functional bag and 1 neck pillow. 
In addition, all card holders with every one million dong spent will receive one turn to join the lucky draw on the website at https://mualehoi.sacombank.com.vn. With a total spending of 10 million dong or more, card holders will be offered 2 more turns to enter into the lucky draw. The prizes include cash of up to 500,000 VND or bonus points. Every week, card holders having the highest accumulated bonus points will receive the special prize worth 10 million dong, 15 card holders reaching 30 points at the soonest will receive incentive prizes worth 2 million dong. Accumulated bonus points offered are valid within a week. 
Sacombank's international credit cards regarded as a modern payment method enable customers to purchase now pay later with no interest for up to 55 days and no collateral. Card holders can make a payment, withdraw money around the globe, especially pay by tapping the cards against POS machines or scanning QR codes, purchase online, and accumulate bonus points to redeem gifts when shopping, enjoy 0% interest installment plan anytime everywhere; are offered discounts of up to 50% at hundreds of acceptance points, etc. To register for a card online, customers access dangkythe.sacombank.com.
For more information, please contact Sacombank's transaction offices nationwide, call our hotline at 1900 5555 88 or 028 3526 6060, email to ask@sacombank.com or visit www.sacombank.com.vn , khuyenmai.sacombank.com.