Sacombank implements a number of incentives programs to celebrate International Women's Day
03/03/2017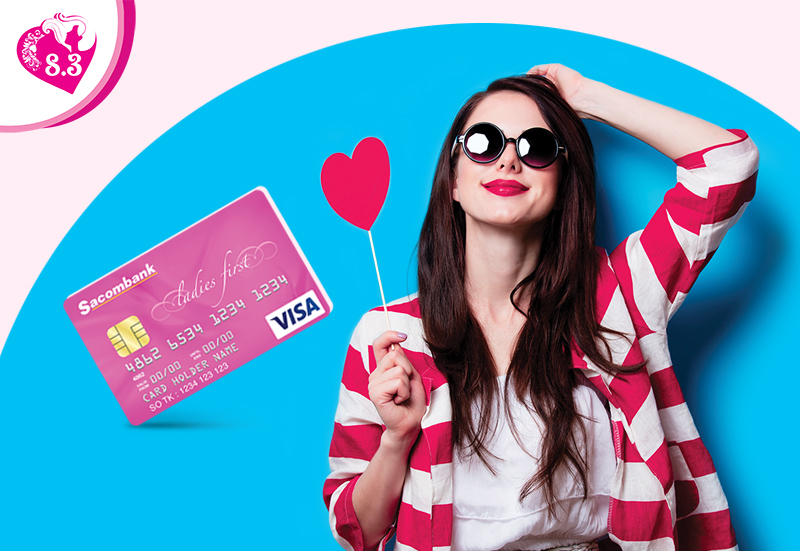 In particular:
From now to March 22, 2017: Free prepaid card with customized photo printing which costs VND99,000. Customers do not need to open a bank account or proving income can still buy international prepaid card with customized photo printing. It is not only used for personal use, customers can also choose any image they like to print on the card as a meaningful gift for relatives, friends...

From now to March 31, 2017
-    Rebating, cashing back up to 1 million VND and discount from 5% to 40% for Sacombank's cardholders when making purchase at Carlo Rino, MD STORY Pearls, OPI nail care, Hollywood Beauty Salon, Chill Sky Bar, EON51 Restaurant, Ice Cream Fanny, Cholon Tourist, Evason Ana Mandara Nha Trang Resort…

From March 7th to March 31st, 2017: "For Beauty - Ladies First Promotion"
-    Offering an umbrella and a raincoat for customers who open a new card with a transaction value of 1 million dong within 15 days from the activation date;
-    Cash back VND200,000 for the first 10 cardholders making online payment valued from 2 million dong per day;
-    Giving extra VND83,000 for the first 240 shopping transactions valued from VND500,000 starting from 09h00 on 08/3/2017 (each card holder is offered up to 3 times, at different points of acceptance);
-    Cash back 1 million VND to 10 cardholders with transaction value from 2 million VND and meet 3 conditions: (1) click "like" post promoting March 8th Incentive Programs on Sacombank's fanpage on Facebook; (2) Share post to personal page (in public mode and hashtag #8thang3ladiesfirst); (3) Have the most number of friends comments on the post.

On March 8, 2017: Special benefits for female customers at all transaction points
-    Giving 200 gift points in the loyalty program (with the code at Sacombank);
-    Offer 3 months free use Combo when buying new or buy more products to fullfil Combo (including Payment Account, Payment Card, Automatic Alert and Internet Banking/Mobile Banking).

In March, 2017: "March 8th Birthday - Anniversary Gift" program at Sacombank – 8 Thang Ba Ho Chi Minh City Branch (41-43 Tran Cao Van, Ward 6, District 3) and other Trading Dept. (234 - 226/216 Nguyen Trai, Ward 3, District 5; 165 Xo Viet Nghe Tinh, Ward 17, Binh Thanh District; 481B Dien Bien Phu, Ward 25, Binh Thanh Dist; 192-194 Ly Thuong Kiet, Ward 8, Tan Binh District; 197 Phan Dang Luu St., Ward 1, Phu Nhuan District):
-    Give a set of tea cups for individual customers to open payment account;
-    Give a helmet for individual customers to open credit card or business opening payment account.

For detailed information, please access www.sacombank.com.vn; any Sacombank transaction points or Customer Center 24/7 at 1900 5555 88 / 08 3526 6060 or email ask@sacombank.com.