Sacombank issues Sacombank Visa Platinum Unlimited Cashback Credit Cards
10/10/2017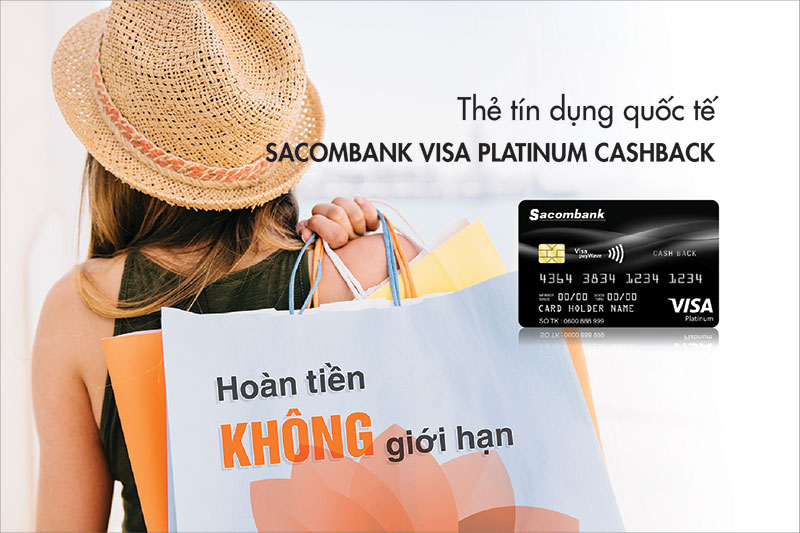 From 10/10 to 31/12/2017, customers applying for Sacombank Visa Platinum Cashback credit cards will receive a special preference for 100% cashback on the first spend with spend of at least VND500,000. Customers receive maximum VND3 million cashback on overseas spends within 60 days from the date of card activation and maximum VND500,000 cashback on online spends within 30 days from the date of card activation. Furthermore, customers can also enjoy VND500,000 cashback on total online spends with minimum spend of VND10 million within 30 days from the date of card activation.   
Sacombank Visa Platinum Cashback cardholders always enjoy privileges including:
5% cashback on online spends, 3% cashback on overseas spends and 0.5% cashback on other spends;
Global travel accident insurance worth VND10.5 billion. 
24/7 no-fee global supports for services such as airline ticket booking, restaurant reservation, room booking, events ticket booking, car renting, travel plan and more.  
And other attractive preferences: currency exchange rate of only 2.6%, 0% interest for up to 55 days on every purchase, payment, cash withdrawal around the globe, online shopping, 0% interest payment plans at any time and everywhere, 50% discount offered at hundreds of acceptance points for shopping, dining, services linked with Sacombank and more. 
For more information, please visit dangkythe.sacombank.com to register for a card online, or khuyenmai.sacombank.com or contact our transaction offices or call our 24/7 Customer Service Center at 1900 5555 88 / 028 3526 6060 or email to ask@sacombank.com.