Touch to pay and enjoy many incentives with Sacombank card
18/08/2017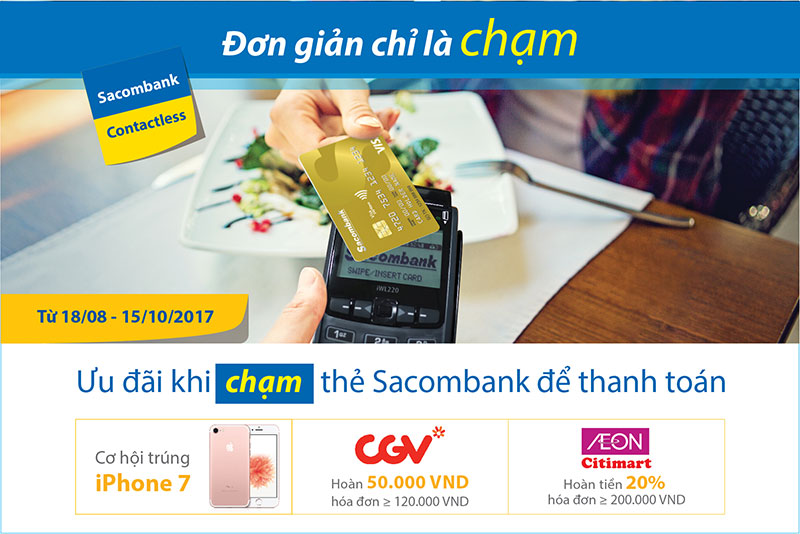 Accordingly, for each non-contact payment of 50,000d, the cardholder will receive 1 code to participate in the lucky draw on October 24, 2017. The prize is 3 Iphone 7. In addition, when buying movie ticket at CGV cinema (Vincom Ba Trieu, Aeon Mall Long Bien, Hung Vuong Plaza, Vivo City, Tan Phu Celadon) using contactless card, the cardholders will be refunded 50,000VND (Up to 3 times / cardholder). For payment of above 200,000 VND making at Aeon Citimart Supermarket using contactless card, cardholders will receive a refund of 20% (one time per customer, refund amount cap is 200,000 VND).
Launched in early July, 2017, Sacombank Contactless card and POS NFC have received the attention and experience of many customers by the outstanding advantages and simplicity of this payment method which is worked just by touching or waiving the card in front of the POS. Particularly, the deployment of POS NFC machines at the Aeon Citimart supermarket chain, KFC fast food chain and CGV cinema system has helped speed up payment time as well as bring about high safety and security for cardholders because they can still hold their cards when paying.
In addition to Aeon Citimart, KFC, CGV, Sacombank is extending the installation of POS NFC machines in the store, shopping mall, dining and entertainment center... nationwide to better serve its customers.
For detailed information, please contact www.sacobank.com.vn or all transaction office/24/7 customer service by 1900 5555 88 / 028 3526 6060 or email ask@sacombank.com
For further information: https://www.youtube.com/watch?v=HVLHEihx3UU