Sacombank gives incentive interest to customers who open saving account in the Sacombank's birthday month
20/12/2018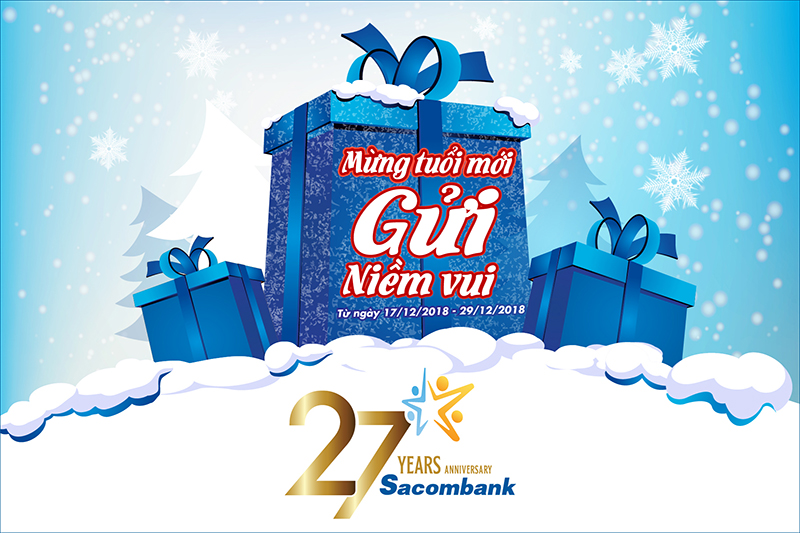 In addition, during December 2018, customers registering e-banking services (including mobile banking and internet banking) will be awarded an umbrella; Each week, 50 customers with the highest number of transactions via e-banking will receive VND 500,000. From now until the end of December 22, 2018, customers who make transactions at Sacombank will receive a discount of up to 30% of the service fee or receive gifts when opening saving account; new customers registered Combo package, click "like" Fanpage Sacombank (https://www.facebook.com/SacombankHome/?ref=bookmarks) and "check in" at "Sacombank transaction point" for 27th Birthday Anniversary of the Bank will be free for 6 months service use (Combo including payment account, e-banking service, card product ...).
Besides, welcoming The Year of The Pig 2019, from now until the end of February 28, 2019, Sacombank will implement the program "The Spring of Gratitude – The Wealth of Lunar New Year" for individual customers, consumer loans, using services at counters, receiving remittances, Sacombank e-banking service and insurance services. The total prize value of the program is over VND34 billion with thousands of attractive gifts, of which the special prize is 1kg SJC Gold.
Accordingly, when adequate conditions are met, customers will receive a prize code to participate in the lucky draw event with a prize structure including 1kg of SJC gold, 2 SBJ diamonds of 1,2 carat, 28 Honda Lead motobikes and 55 Sony sound systems, 746 sets of Minh Long Vinh Quy Nhat tea pots. Customers who open saving account, use services at counters or receive remittances also have the opportunity to receive points to redeem for gifts. Consumer loans customer from VND 25 million will receive an umbrella, water cups or wall clocks. Customers who pay / transfer online can also participate in the lucky draw program with the prize structure including: 1 iPhone XS-64G phone, 4 Apple Smart Watchs, 70 sets of Japanese porcelain pots and 290 Minh Long Vinh Quy Nhat tea pots. Customers who have opened Dai-ichi life insurance program via Sacombank with the first year insurance fee of VND 20 million will be given a Sacombank prepaid card from VND2 million to VND20 million.
For detailed information, please contatct: