Sacombank will consolidate, stabilize to return to its growth impetus
21/12/2018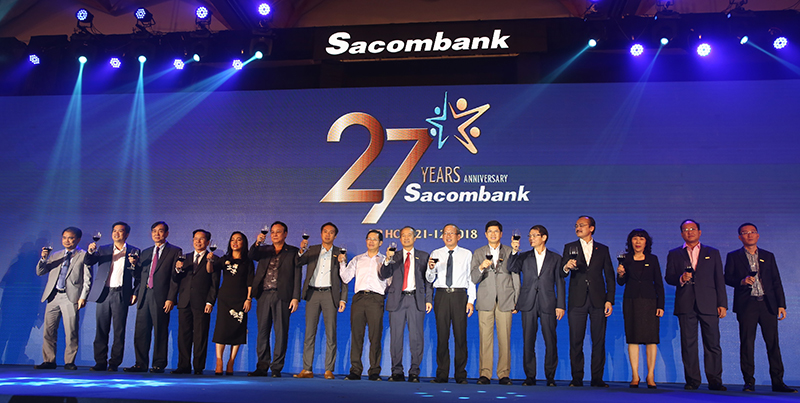 Accordingly, total assets of Sacombank is estimated to reach VND407,000 billion, up 11% year-on-year (yoy), the quality of assets improved with the performing assets increased by 5% yoy. Deposits from economic entities and individuals is about VND364,000 billion, up 12% year-to-date (YTD), ensuring liquidity and the prudent ratios stably throughout the year. Outstanding loans is estimated to reach VND258,000 billion, up 14% YoY following the selective growth trend and efficiency. Non-performing loans ratio decreased to less than 3%. Total income is estimated at VND10,500 billion, up 21% yoy, of which interest income and income from services growth improved significantly yoy, notably, bancassurance service revenue achieved outstanding results. Besides, Moody's credit rating agency has changed Sacombank's outlook rating up to a stable level.
With the motto of "Customer First", in 2018, Sacombank will continue to promote cooperation with prestigious domestic and foreign partners to implement many projects in order to create a breakthrough for the modernization strategy of digital banking system, to optimize management, customers care as well as to enhance customer experience in all interactions with Sacombank. The bank has implemented successfully the Loan Origination System (LOS) to support the loan application processing needs, CRM customer relationship management system; upgraded the core banking system T24 from version R11 to version R17, conducted the Basel II project, launched a new version of the e-banking system, established Digital Banking Technology Center and especially the launch of the Sacombank Pay - financial management application, fully integrated with the most modern features and utilities bringing interesting non-cash payment experiences to customers.
In addition, Sacombank continues to maximize its operational network advantages in 48/63 provinces and cities of Vietnam and two countries, Laos and Cambodia with 566 current transaction points and the bank will expand its presence to four more provinces of Lao Cai, Thai Binh, Ninh Binh and Nam Dinh in 2019.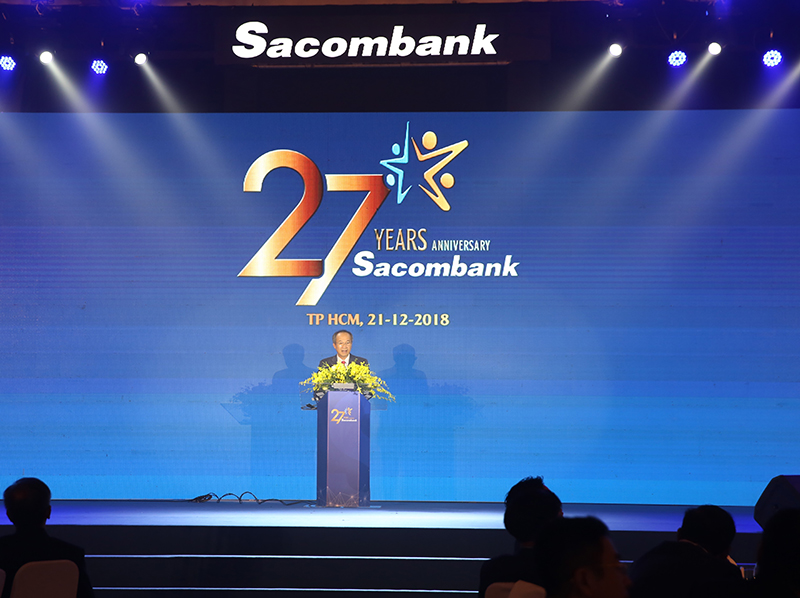 Mr. Duong Cong Minh, Chairman of Sacombank speaks at the event
Giving a speech at the Sacombank's 27th year anniversary of establishment celebration, Mr. Duong Cong Minh, Chairman of the bank said: "After one and a half year of drastically implementing the restructuring project, in the context of" running and queuing ", must ensure that the restructuring process is on the right track and roadmap, but at the same time, the business growth is still required, Sacombank's leaders and employees have made great efforts to create, unanimously overcome obstacles and challenges. The initial result was positive, laying the groundwork for us to confidently complete and shorten the restructuring process by a 5-year period instead of 10-year period as planned. This initial success, the great success really belongs to a team of more than 18,000 professional staff, who love their jobs and engage with the development of Sacombank. On behalf of the bank's leaders, to all of you - members of Sacombank, thank you sincerely and I hope that we will continue to work together and strive together on the journey ahead for the bank growth. In addition, Sacombank's success also comes from the deep care and support of the Party leaders, Government leaders, agencies and departments from central to local levels, and especially from the close guidance of the leaders of the State Bank. At the same time, we also respectfully appreciate the thorough companionship and loyalty of our shareholders, partners and millions of customers for Sacombank during the past 27 years."
Looking forward to 2019, with the motto of "Customer First, Employee Engagement", Sacombank will continue its pioneering journey with the spirit of consolidation and acceleration, breakthrough and creativity to become a top modern and multi-functional retail bank in Vietnam and to reach out to the regional level through the following goals: (i) business efficiency increase, scale and market share development, financial indicators improvement, (ii) digital banking acceleration and modern IT applications; (iii) customer experience and satisfaction enhancement, (iv) a lean organization structure implementation, human resources and working environment improvement, (v) brand image enhancement, corporate culture consolidation, (v) promotion of spirit of innovation.