Adding 512 more winers for Sacombank promotion program "Thousand of gifts – Millions of joys"
25/09/2019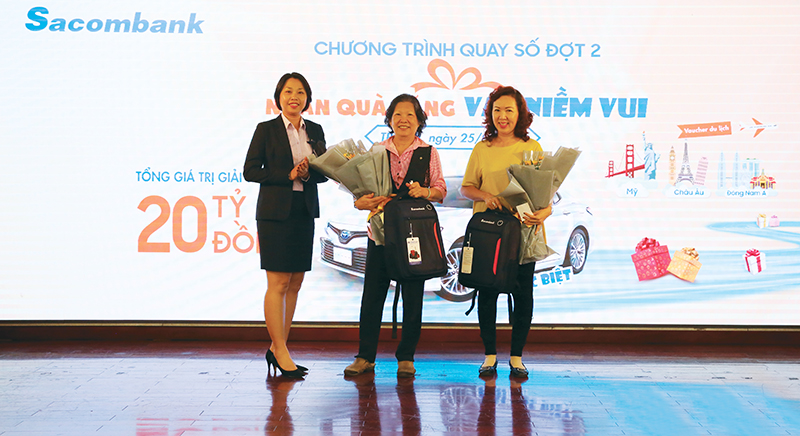 Besides, Sacombank also dials to find lucky customers who win "Summer cooling combo" promotion campaign including 8 first prizes which value a Korean travel Voucher each prize, 8 second prizes are vouchers at Dien May Xanh that worth VND 15 million per prize and 8 third prizes are coupons at Dien May Xanh worth VND 10 million per prize.
"Thousands of gifts – Millions of joys" is a promotion program launched by Sacombank from July 22 to October 19, 2019 for individual customers with total prizes worth up to VND 20 billion. In particular, when customers deposit at Sacombank or via internet Banking (iBanking and mBanking) with the minimum amount of VND 5 million, with a term from 2 - 36 months, or having successful transactions from VND 5 million via internet banking; or receiving remittance which accumulated up to USD1,400; or generating VND 100,000 service fee (excluding card service fee, credit service fee) will receive a lucky draw code.
Sacombank will continue to organize the third lucky draw round for the "Thousands of Gifts – Millions of Joys" campaign on October 29, 2019 to find the customers who win the remaining Honda SH Mode cars and travel backpacks. Also on October 29, 2019, Sacombank will organize the last lucky draw round to find the owners for 01 Special Prize – A Toyota Camry 2.0 E, 02 First Prizes – Travel tour to the US, 03 Second prizes - Europe tour and 15 Third prizes - Southeast Asia tours (Singapore / Malaysia / Thailand)
The winner list is uploaded on website khuyenmai.sacombank.com.
For detailed information, please contact: 
All Sacombank transaction office nationwide;
Hotline 1900 5555 88;
Email: ask@sacombank.com