Sacombank and Vietnam Textile and Apparel Association signed a development cooperation agreement
04/11/2019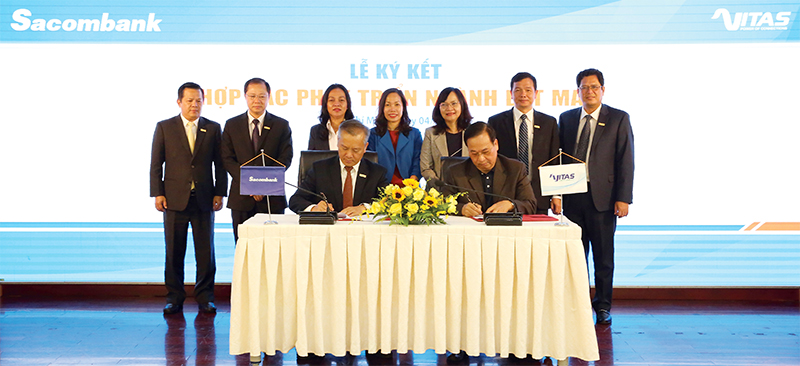 2019 is considered a year of many breakthroughs in terms of economy integration when the Comprehensive and Progressive Agreement for Trans-Pacific Partnership is implemented and the Vietnam-European Union Free Trade Agreement is signed. This is considered an opportunity to help Vietnamese textile enterprises increase access opportunities and boost exports to larger areas and markets. Along with the opportunity to access new markets, the integration process also brings many challenges for Vietnamese textile enterprises.
Sharing at the ceremony, Mr. Phan Dinh Tue - Deputy General Director of Sacombank said: "With the customer orientation strategy, besides actively developing cooperation with businesses, Sacombank always wishes join and collaborate with Associations to gain in-depth understanding of the industry, thereby devising more comprehensive solutions for businesses. The cooperation with the Textile and Apparel Association is one of the specific tasks for Sacombank to implement this policy in order to join the Association's members in welcoming the opportunities of the Comprehensive Partnership Agreement and Trans-Pacific Progress. Sacombank is committed to providing financial solutions to help textile enterprises improve the efficiency of their production and business activities, aiming to achieve sustainable development."
For VITAS, Mr. Vu Duc Giang - Chairman of Vietnam Textile and Apparel Association said that the Association will support and consult projects related to textile and apparel industry for Sacombank. He expects the cooperation to be carried out on the basis of co-operation, trust and efficiency for the mutual.
On the same day, the Vietnam Textile and Apparel Association also had a meeting to share information on the common goals and development orientations of the textile and apparel industry in the future.