Sacombank awarded Toyota Camry 2.0 e to customers winning prizes of "Thousand gifts – Ten thousand Joy"
27/11/2019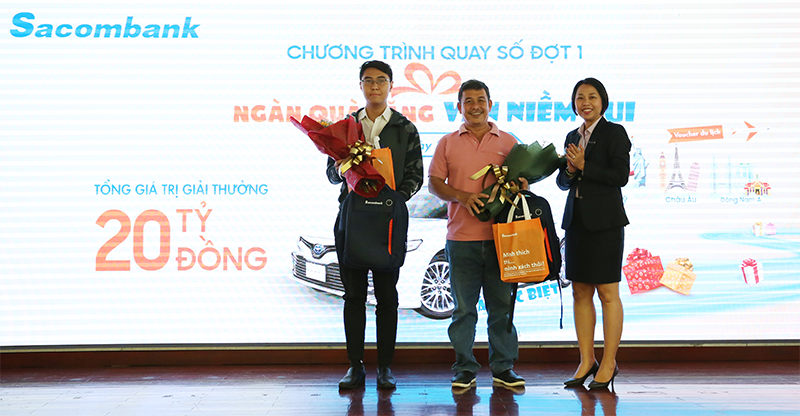 Customer Phi Nhu Lieu, who won a Toyota Camry 2.0 E car, said: "For me, the bank is the safest place to keep money, it is safe and it has additional interest to supplement the monthly income. My deposit goal is just that. However, unexpectedly with this deposit, I won a special prize of the program "Thousand gifts - Ten Thousand Joys" that made me extremely happy and found myself very lucky.
Cap: Mr. Nguyen Minh Tam - Deputy CEO of Sacombank (left) and Mr. Dang Van Phuong - Director of Sacombank Ben Cat Branch (right) give special prizes of the promotion program "Thousands of Gifts - Ten Thousand Joys" which is a Toyota Camry 2.0 car worth nearly VND1 billion to customers Phi Nhu Lieu (middle).
Cap: The customer who wins Honda SH Mode takes a photo with the award. 
"Thousand of Gifts - Ten Thousand Joys" is a promotion program launched by Sacombank from July 22 to October 19, 2019 for individual customers with a total prize value of up to VND 20 billion. Specifically, when customers deposit at Sacombank or via eBanking (iBanking and mBanking) of at least VND 5 million, with a term of 2 - 36 months, or have successful transactions from VND 5 million via NganLuong.vn; or accumulated of USD1,400 to receive remittance; or arise VND100,000 service charge (excluding card service fee, credit service fee) is received the a lucky number.
The winners of the program are determined at the lucky draw event organized on October 29, 2019 under the witness of representatives of Trade Promotion Department - Ministry of Industry and Trade, representatives of Sacombank's Board of Directors, representatives of customers and journalist. List of winners is posted on website khuyenmai.sacombank.com.
For detailed information, please contact: