Sacombank cardholders enjoy many privileges when shopping on Black Friday
26/11/2019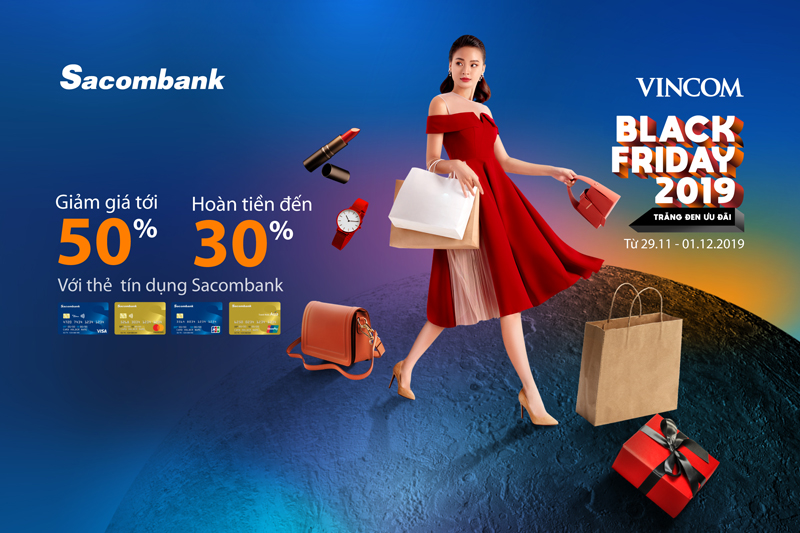 For online shopping offers, before making transaction, customers register for the program by texting to 8149 (VND 1,500) with the syntax THE SALE2911 <the last 4 digits of the card / account number Sacombank Pay>. The promotion is applied for the first 500 customers with eligible transactions, each customer will receive a one-time refund.
For promotion at Vincom, customers will receive a refund of 10% (maximum VND 500,000), 20% (maximum VND 1 million), 30% (maximum VND 1,500,000) applying for the first purchase invoice is from 500,000 dong or more, the second purchase invoice is from 1 million dong or more and the 3rd purchase invoice is from 1,500,000 dong and up. The number of offers is limited, applicable to the ealy customers who have eligible for the program.
Sacombank international credit card is an essential backup financial source for all consumption needs with many utilities such as: unlimited maximum credit limit; pre-paid and post-paid purchases are entitled to interest free up to 55 days without collaterals; Pay and withdraw money from around the world, especially is touching cards payment method to POS or scanning QR codes at global card POS and withdrawing without plastic cards by scanning QR codes at Sacombank ATMs on nationwide; shopping via Internet; accumulate reward points to redeem gifts / miles when shopping; 0% interest installment purchase anywhere, anytime; up to 50% off when eating, drinking, shopping; actively making transactions via e-banking channels, applying Sacombank Pay... The requirements for opening a card is all residence who live in Hanoi, Ho Chi Minh City with income from VND 5 million / month and VND 3 million / month for customers from other provinces.
Sacombank Pay is a financial management application, fully integrated with modern banking system with diversify utilities to provide customers with many interesting experiences in digital banking such as: linking with domestic and international card issued by all banks; Easy to deposit / transfer money into the application; cash withdrawal without a plastic card; transfer money to any recipient via account, card, mobile phone number or personal QR code; proactively manage cards and accounts; making hotel reservation; buying air / bus / train tickets, movie tickets; split eating and shopping bills with friends; top up mobile phones; paying multi-sector invoices and authorize automatic payment trust; registering and managing purchases / advances of 0% interest installments; Finding transaction points, ATMs and latest offers…. Especially from now until January 31, 2020, customers will receive a Got It gift voucher worth VND 100,000 when buying a bus or train ticket with a transaction value of VND 500,000 (no limit on the number of tickets / time) on Sacombank Pay. Customers can download free Sacombank Pay from App Store or Google Play to mobile devices and register an app account with a phone number.
For further information, please contact Hotline 1900 5555 88 or 028 3526 6060; access to website khuyenmai.sacombank.com and register card online at website card.sacombank.com.vn.