Sacombank domestic debit cardholders enjoy cashback and refrigerators as rewards on shopping
08/10/2019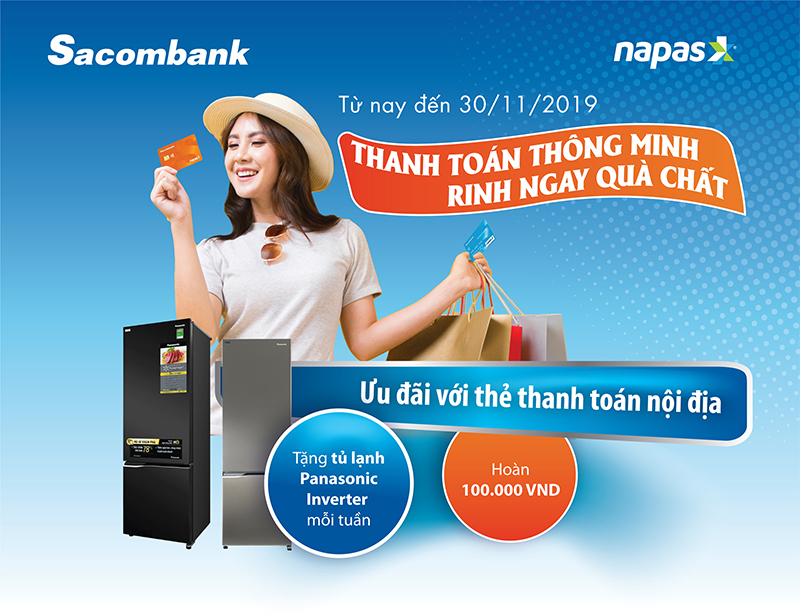 Sacombank is one of the first few banks in Vietnam eligible for issuing domestic cards with an EMV chip which is able to store confidential information with extreme security and allows contactless payments. In particular, Sacombank has started to apply an EMV chip on Plus debit cards and then on Family credit cards in accordance with the roadmap of converting 30% number of magnetic cards into chip cards in 2019.
The Plus debit card with an EMV chip is an electronic chip card meeting the standards of the EMV - an international alliance of card payment organizations. An EMV chip is capable of storing confidential information with extreme security, minimizing counterfeit and fraud transactions. Simultaneously, customers can tap on or gently wave the card closely to the NFC POS machine for a few seconds to complete the payment and do not need to sign invoices with a value of VND1 million or less. The Plus debit card is linked to the payment account, allowing customers to use money in the account to make payments and withdraw cash nationwide, external money transfer and online shopping on many websites. To open a card, a customer needs to present an identity card, a citizen identification card or a passport.
For further information, please kindly contact Hotline 1900 5555 88 or 028 3526 6060; visit website sacombank.com.vn or dangkythe.sacombank.com.