Sacombank identifies customers winning 1 kg of gold and 1.2 carat diamond
12/03/2019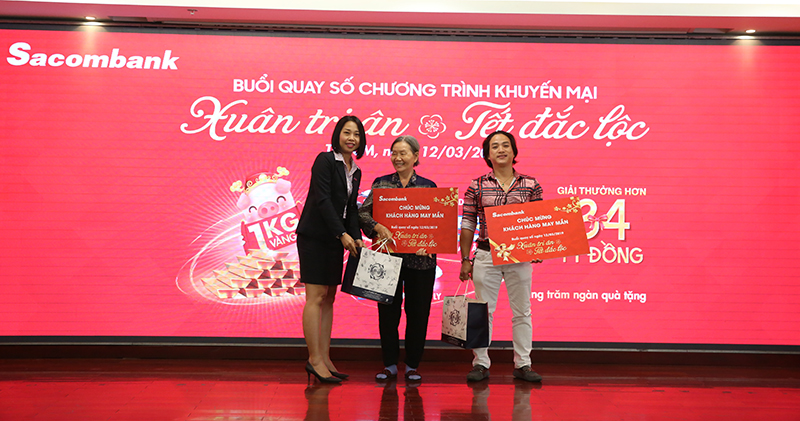 "The Spring of Gratitude – The Wealth of Lunar New Year" is a promotion program for individual customers who open saving account, registering for loans, using services at the counter, receiving remittances, e-banking services or insurance services of Sacombank .
The program was implemented from December 3, 2018 to February 28, 2019 with a total prize value up to VND 34 billion and thousands of instant gifts such as umbrellas, supermarket vouchers, Minh Long tea cup set and gold-plated feng-shui paintings, or Sacombank prepaid cards value from VND2 million up to VND20 million.
In addition to the general awards, the special lucky draw event for customers with prize codes derived from e-banking transactions also took place and identified Mr. Ngo Dinh Hy (customer of Go Vap Branch), winning the Iphone XS-64G phone, and together with other 4 customers winning the Apple Smart Watch, 70 customers won the Japanese porcelain pot set and 290 customers won the tea set.
List of all winners of the promotion the campaign is posted on Sacombank's website https://khuyenmai.sacombank.com. 
For more information, please access: 
Website: https://khuyenmai.sacombank.com;
Hotline 24/7 theo số điện thoại: 1900 5555 88; 
Email: ask@sacombank.com.