Sacombank offers great discounts on Online Friday 2019
05/12/2019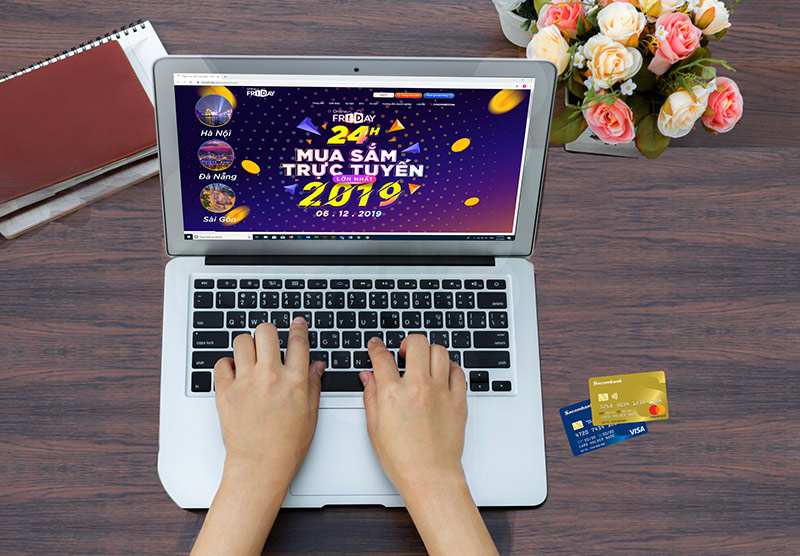 With contactless payment, customers only need to touch or lightly wave contactless Sacombank cards on POS with NFC technology in a few seconds to complete the transaction and do not need to sign receipts from for the invoice from VND1 million or less. Currently, the Bank has applied touch payment technology with international standard EMV chip for all Sacombank international cards and is one of the first banks in Vietnam to issue chip for domestic cards from May 2019.
With QR payment method, customers can download Sacombank Pay's financial management application from Google Play or App Store to their mobile devices, integrating card information and using mobile devices to scan QR codes at the POS instead of using plastic cards directly. Sacombank is the first bank in Vietnam that meets the requirements to apply QR payment method according to international EMV standards from 2017. Customers using Sacombank Pay can not only scan QR codes to making payment in Vietnam but also on a global scale. In addition, Sacombank Pay application also brings many interesting experiences in the digital banking such as: linking with domestic and international cards of all banks; Easy to deposit / transfer money into the application; cash withdrawal without a plastic card; transfer money to any recipient via account, card, mobile phone number or personal QR code; proactively manage cards and accounts; hotel reservation; buy plane / bus / train tickets, movie tickets; split eating and shopping bills with friends; buy mobile top-up card; pay multi-sector invoices and authorize automatic payment trust; register and manage purchases with 0% interest installments payment; Find surrounding transaction points, ATMs and the latest offers...
In particular, with constant efforts in pioneering the development of card payment and mobile payment services in Vietnam, in 2019, Sacombank has been continuously recognized as the leading banks in Vietnam market in terms of total payment transactions, total number of newly issued and current activating credit cards, total number of contactless payment transactions, outstanding revenue from QR payment transactions, achieving highest number contactless card acceptance devices, best contactless payment network by the international card organizations such as Visa, Mastercard, JCB and Vietnam National Payment Joint Stock Company (Napas).
For further information, please contact Hotline 1900 5555 88 or 028 3526 6060; access to website sacombank.com.vn and register for card online at website card.sacombank.com.vn.