Sacombank offers great incentives to female customers on the International Women's Day - March 8
01/03/2019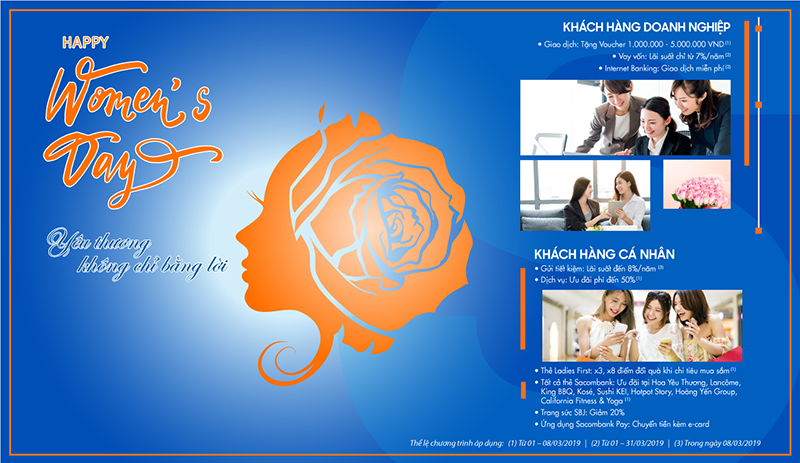 In details, from now until the end of March 8, 2019, international credit cardholders of Sacombank (including corporate credit cards, except for supplementary cards) will enjoy attractive incentives such as: VND100,000 discount for the first 300 customers having a purchase at www.hoayeuthuong.com with a value from VND500,000; giving a gift which is a dish/ drink valued at VND300,000 for the first 300 customers with bill from VND 1 million at Red Sun and Hoang Yen Group restaurants; 20% discount for the first 220 customers buying jewelry and gifts at SBJ (exclusively for customers who receive the code); gifting up to 30% of the value of the bill and 1 Lancome cosmetic pouch; free voucher of 1 month training at CFYC club for cardholders of Credit Card Classic and 2 more training sessions with personal coach for cardholder of Credit Card Gold or more.
For Lady First International Credit cardholders, there will enjoy triple loyalty points awarded for transactions from March 1 to March 7, 2019 and 8 times loyalty points for trading on March 8, 2019.
Besides, from now until the end of March 31, 2019, Sacombank international credit card holder will also be refunded 5% (unlimited refunded amount) for the first year insurance fee when signing the life insurance contract Dai-ichi Life at any Sacombank branch / transaction office nationwide. Each cardholder can buy multiple insurance contracts simultaneously.
Also during the period from March 1, 2019, to the end of March 31, 2019, Sacombank offered many special incentives to corporate customers that the Chairman of the Board of Directors, General Director and Director (in case the director is the highest leader of the business) are female such as free of charge for the first year when opening payment card / credit card for businesses; Free Internet Banking transaction until the end of December 31, 2019; Loan with preferential interest rate from 7% per year during the promotion period. In particular, from March 1 to March 8, 2019, the first 308 enterprises will receive 1 beauty care voucher worth VND 1 million; 20 businesses with leaders in the above cases who have birthday on March 8, will receive a beauty care voucher worth VND 5 million for the first transaction;
In addition, from March 4, 2019 to March 9, 2019, female customers who having transaction will enjoy attractive incentives. In particularly, customers will enjoy 3 months service fee when registering for Combo 1 (Payment Account, Payment Card and Alert for automatic trading) or 6 months free when registering Combo 2 (Payment account, Payment Card, Alert for automatic transactions and Internet banking). For customers who register or renew all kinds of property preservation, safe box rental, and intermediary services, will receive a 50% discount on service charges.
More particular, on March 8, 2019, female customers open new saving accounts or renewed saving accounts (regular term savings, Flexible Savings, Middle-aged Savings) with term from 6 up to 36 months will enjoy preferential interest rates up to 8% per annum. In addition, customers who bring Savings Card with deposit date are March 8, 2019 to any SBJ store, will receive a 20% discount when purchasing jewelry products (not applicable to diamonds and 24k gold), incentives apply until March 31, 2019.
For more information, customers can contact Hotline 1900 5555 88 or 028 3526 6060; website khuyenmai.sacombank.com and registering online cards at website card.sacombank.com.vn