Sacombank opened Nam Dinh branch
23/10/2019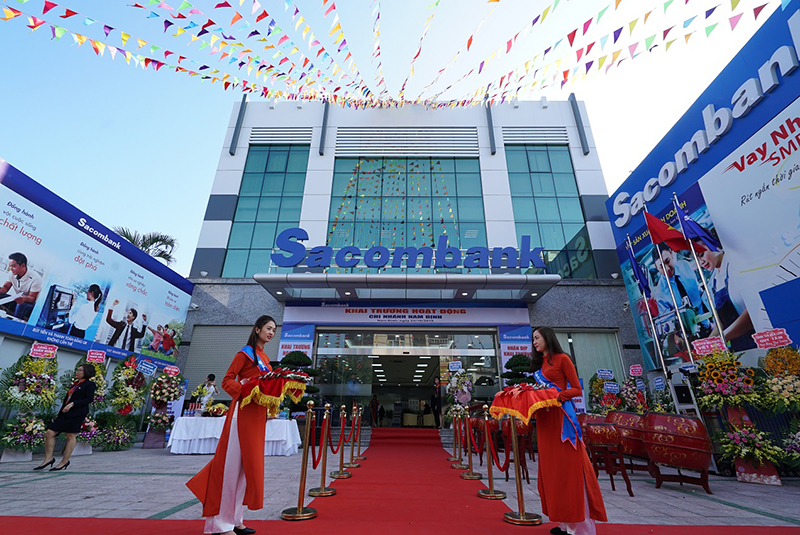 With the development potential in seafood, textile, tourism industries, Sacombank Nam Dinh will promote the advantages of a retail bank and endeavor to provide the market with optimal financial solutions in order to bring the best benefits to customers, reduce pressure and enhance competitiveness for businesses, contributing to exploit the potentials and strengths for economic development of Nam Dinh province in the economic integration period.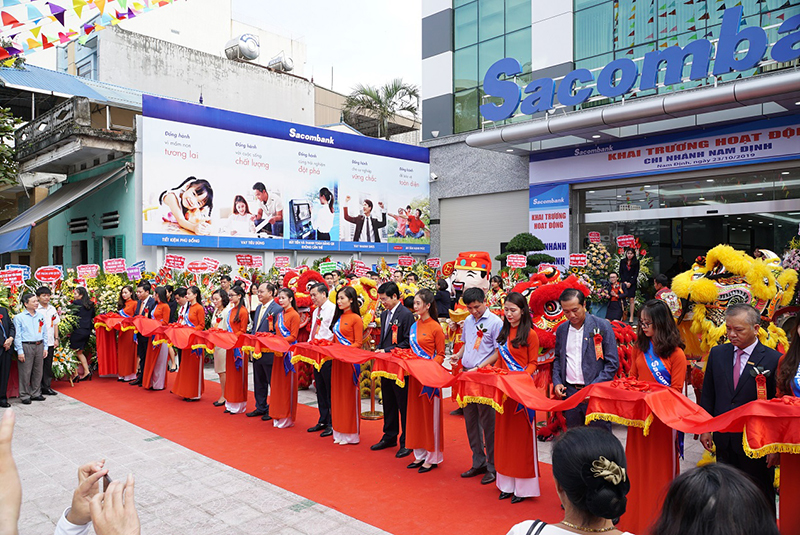 Representatives of the People's Council, the People's Committee of Nam Dinh province, the State Bank of Vietnam in Nam Dinh province,
Departments, boards, branches and leaders of Sacombank cut the ribbon at the grand opening 
To accomplish the above-mentioned goals, Sacombank Nam Dinh Branch will focus on activities such as building specific mobilization packages which suitable to the localities to make the most of the idle capital from businesses. In addition, Sacombank also focuses on increasing total payment accounts and e-banking services. The credit growth will be based on prudence to explore the market, analyze the industries that are suitable to the local development orientation, focusing on loans for small and medium enterprises, individuals or individual business households. In addition, to increase service revenue, Sacombank will expand its customer base of electronic banking, payment and collection by 3rd parties, bancassurance with Dai-Ichi Life and promote card activities by providing payment, credit and prepaid card products in parallel with the expansion of POS, QR payment acceptance points in tourist areas and public parks, big industry areas toward the goal of achieving a cashless payment in Nam Dinh.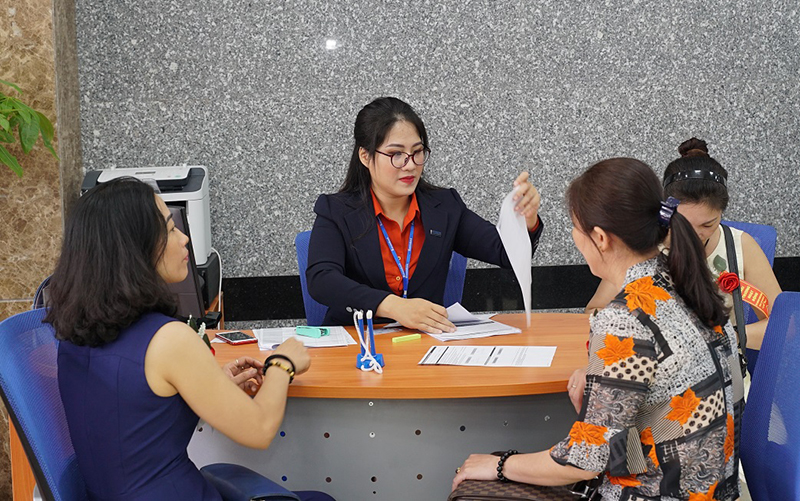 Customers making transaction on the grand opening day 
Along with the opening, Sacombank also put into operation the headquarters office of Nam Dinh Branch with a total budget of nearly VND 20 billion, including 1 ground floor and 2 floors, total used area of over 1,500 m2; located in densely populated areas and businesses and also the location of many government authorities, departments of the Nam Dinh province which is very convenient in terms of contact feasibility and transaction making. The investment in building a spacious, modern and convenient facilities for branch office is showing Sacombank's long-term commitment to the development of economic sectors in the area.
On the occasion of opening Nam Dinh Branch, Sacombank awarded 2 gratitude houses with a total value of VND 100 million to individuals and households in extremely difficult circumstances in the locality. Previously, on May 20, 2019, Sacombank also cooperated with Nam Dinh Red Cross Association to organize the launching ceremony of "Humanitarian Month" and provide gifts for disadvantaged people in the province with a total value up to VND 200 million. Sacombank's Board of Directors also visited each family in person to meet, encourage, visit and give gifts to those families with Agent Orange victims and living in extremely difficult circumstances.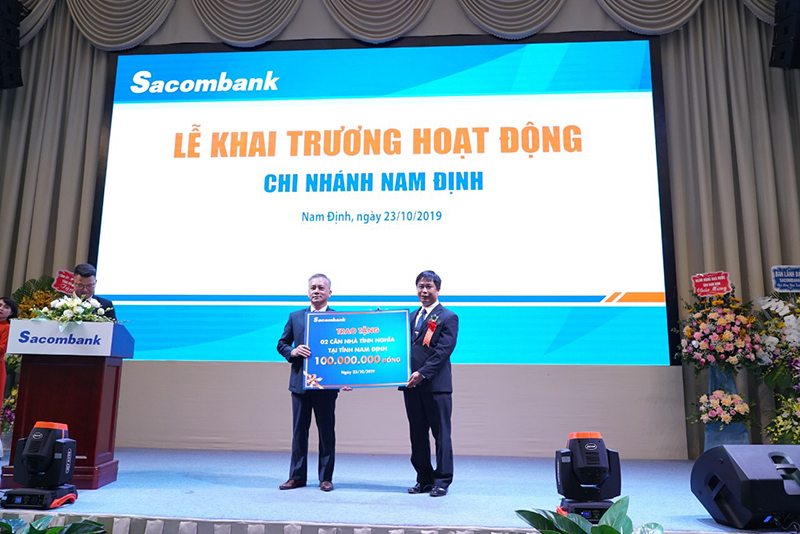 Representative of Sacombank - Mr. Phan Dinh Tue - Secretary of Party Committee, Deputy General Director cum Chairman of
Sacombank Labor Union at the granting gratitude houses ceremony given certificate to representative of Nam Dinh province,
Mr. Pham Minh Phương – Chairman of Nam Dinh Red Cross Association

Since 2012, Sacombank has covered the network in all provinces and cities of the Southeast, Southwest, North Central, South Central and Central Highlands. In addition to expanding in quantity, Sacombank also invests in buying and building branch headquarters office with modern facilities, located in prime locations, convenient for transactions. Therefore, Sacombank's transaction points are quickly stable with positive growth and accounted for significant market share in localities. From the beginning of 2019, Sacombank has opened branches in Lao Cai, Ninh Binh and Nam Dinh and is expected to continue operating in Thai Binh in early November, completing the process of expanding the network to 04 provinces in the North under the scheme of restructuring the planned banking network.
Sacombank is implementing the month of gratitude, including many attractive incentives for individual and corporate customers with a total budget of over VND 25 billion. In particular, from October 21 to October 27, all individual customers are entitled to an immediate 30% reduction of service fees when making transactions at counters or electronic banks such as money transfer, deposit, pay bills ... From October 28 to October 31, individual customers using the traditional savings, Multi-Savings and Phuc Loc Middle-aged savings services which opened at counters with a term of 6 months and above will be given an additional 0.05% / year interest rate.
On the occasion of brand grand opening, Sacombank Nam Dinh branch also offers promotion for business customers and individuals through many forms including: Redeeming points, reducing transaction fees at the counter, preferred loan interest, giving immediately gifts include umbrellas, helmets, raincoats, suitcases, thermos, wall clocks, tea makers, family tableware, water heaters, speed cookers, hair dryers, microwaves, etc.