Sacombank penetrated to Lao Cai market
18/07/2019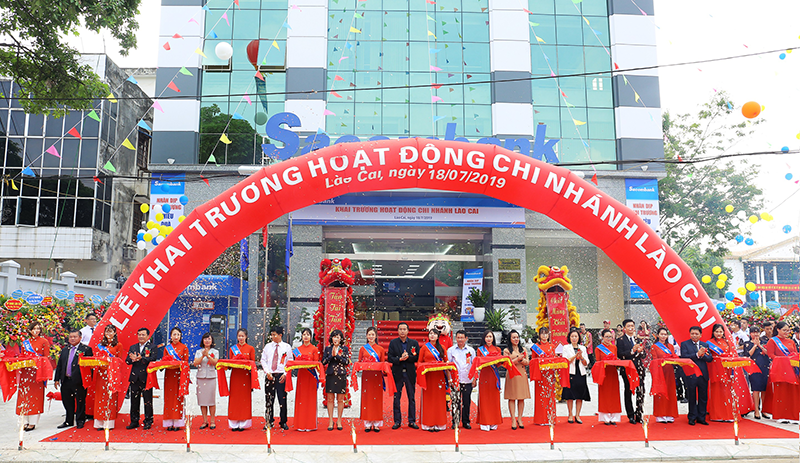 With the operation of Lao Cai branch, Sacombank network has increased to 567 transaction points in 49/63 provinces of Vietnam and two countries of Laos and Cambodia, continuing to lead the group in private commercial banks in Vietnam. On the grand opening occasion, Sacombank Lao Cai Branch implemented many incentives and promotion programs for all customers making transaction at the brand office.
Lao Cai branch carries out all banking services such as: mobilizing capital in VND and foreign currencies, gold depositing from organizations and individuals in the form of term deposits, sight deposit, certificate of balance; granting credit in various forms to meet customers' demand for loans; Guarantee; Domestic and foreign fast money transfer services and other banking services within the framework permitted by Sacombank.
Lao Cai is one of the Northwest provinces having the border to neighbor country, and in recent years it has always maintained an stable economic growth rate which is higher than the average level of the region and the whole country. This is the result of focusing on the development of private economy and improving investment strategy, focusing on two areas: trade and tourism. With the potential of the border gate, tourism and industry economy of the province, Sacombank - Lao Cai Branch is committed to bringing into full play the advantages of a retail bank and striving to provide the full financial package solutions to the market which could contribute to generate the highest benefits to customers, to reduce pressure and to improve competitiveness advantages for businesses, contributing to exploiting the potentials and strengths for economic development as well as bring the highest wealth which supports Lao Cai in its civilization and economic integration process.
Along with grand opening, Sacombank also put into operation Lao Cai branch office with total construction cost of nearly VND 65 billion, including 1 basement and 5 floors, total use area is more than 2,300 meter square; It is located in the downtown with crowded residence and businesses, as well as many authorities and city agencies in Lao Cai which is convenient for customer relationship management and making transaction. The investment in building a spacious branch office with modern and convenient facilities is Sacombank's long-term commitment to the development of economic sectors in the area.
Since 2012, Sacombank has covered its network in all provinces in the Southeast, Southwest, North Central, South Central and Central Highlands regions. In addition to expanding in quantity, Sacombank also focuses on enhancing the performance of the network by re-arranging transaction points with overlapping areas, investing in buying and building branch offices and transaction offices with modern facilities, located in prime locations which is more convenient for customers. Therefore, Sacombank's transaction points are quickly stable, and gain positive growth and significant market share in the localities. To execute the plan of covering Sacombank network to all over northern region, from now to October 2019, Sacombank will continue to open its branch operations in the Ninh Binh, Thai Binh and Nam Dinh.
On the occasion of opening, Sacombank Lao Cai Branch implemented many attractive incentives and promotions for customers. Specifically, individual customers who open saving account from VND 20 million will receive different gifts such as raincoats, helmets, umbrellas, watches, porcelain cups depends on the deposit amounts.