Sacombank signs the cooperation agreement and grants 10 scholarships to students of the University of Dalat
06/06/2019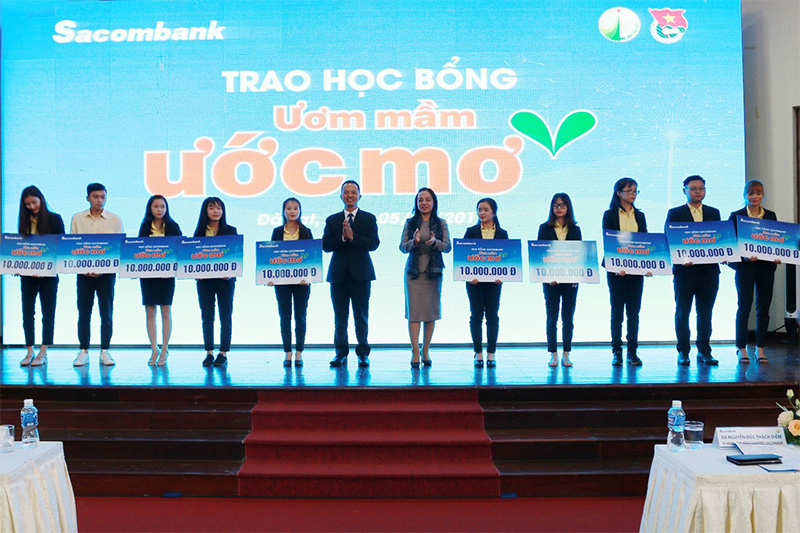 According to the cooperation agreement, Sacombank will recruit and accept internship for students under the Bank's key programs, hold direct recruiting events at the university, coordinate to organize skills sharing/training talks, counsel career orientation for students, organize visits for students to experience actual working environment at Sacombank, sponsor short-term training courses in banking for students and scholarships, etc. Sacombank previously also signed a cooperation agreement on human resource development with the above contents with the Academy of Finance (Hanoi).

Mr. Le Duc Thinh, Deputy CEO of Sacombank (right) and Dr. Le Minh Chien, Principal of Dalat University (left)
sign the cooperation agreement in the presence of Mr. Truong Quoc Thu, Director of Lam Dong Branch
of the State Bank of Vietnam and Ms. Nguyen Duc Thach Diem, Board Member cum CEO of Sacombank and senior leaders of Sacombank and Dalat University.

Mr. Truong Quoc Thu, Director of Lam Dong Branch of the State Bank of Vietnam and Ms. Nguyen Duc Thach Diem,
Board Member cum CEO of Sacombank grant 10 scholarships worth VND100 million
to 10 students overcoming financial hardship with outstanding achievements.

Mr. Le Duc Thinh, Deputy CEO of Sacombank, said: "The program of "Thought Orientation – Life Change" is a bridge to help students know how to plan their life goals. It is also an opportunity for Sacombank to enhance the cooperation between the university and the Bank for mutual companion and development. We have been keeping our human resource with more than 18,800 employees by talent acquisition policy, appropriate remuneration and a transparent promotion roadmap. In addition, we have been very successful in building a modern and professional working environment, and Sacombank has recruited an average of 2,400 new employees each year."
At the signing ceremony, Dr. Le Minh Chien - Principal of Dalat University said: "The program of "Thought Orientation – Life Change" dã has contributed to help Dalat University in its development strategy aiming to international integration and quality of training to meet the real needs of society. Therefore, I would like to express my sincere thanks to the Board of Management of Sacombank as this is a rare opportunity for students to receive a new flow of knowledge, a new positive mindset to help them get a clearer career orientation."
During the period of series programs, more than 1,500 students of universities have listened to the key speaker Josh. Diep Minh Nghi - Senior training consultant, who holds many important positions in large domestic and foreign enterprises, covering the topic of "Think Management". Mr. Diep Minh Nghi on behalf of Sacombank has given a message to all students: "It does not matter who you are, it is important that you have a positive mindset, a spirit with full of energy and enthusiasm so that it is easy for people to get to know who you are!"
In particular, in every event held at the University, Sacombank has given an impressive introduction about Sacombank Pay app - a financial management app which provides customers with exciting experience of modern digital banking features and utilities. Customers can easily download the Sacombank Pay app for free from the App Store or Google Play to smartphones. After downloading the app successfully, customers only need to register by phone number, then verify personal information or card information on the app to start using the app. The Sacombank Pay app enables users to top up/transfer funds into the app, get cash at ATMs without using a plastic card, experience modern payment technology by scanning a QR code, proactively manage cards, accounts, divide bills flexibly, pay many bills, enjoy safe transactions, utilities, etc. Students who successfully download the app also have an opportunity to receive special prizes in cash and many other valuable gifts.
During more than 27 years of continuous development, Sacombank has created a foundation for sustainable development not only in terms of finance, management system, infrastructure, but also the development of top-quality human resource. In addition, in order to contribute to the development of the community and society, besides doing business, Sacombank has also focused on training and recruiting quality human resource with the motto "Human resource is the core value". Over the years, Sacombank has coordinated and implemented many career recruiting programs as well as training and orientation programs for students from universities/colleges nationwide with outstanding programs such as Sacombank Potential Intern, Sacombank Scholarships for dreams incubation, Sacombank Tour, and more.