Another 5 Sacombank JCB cardholders won 9999 gold
24/07/2020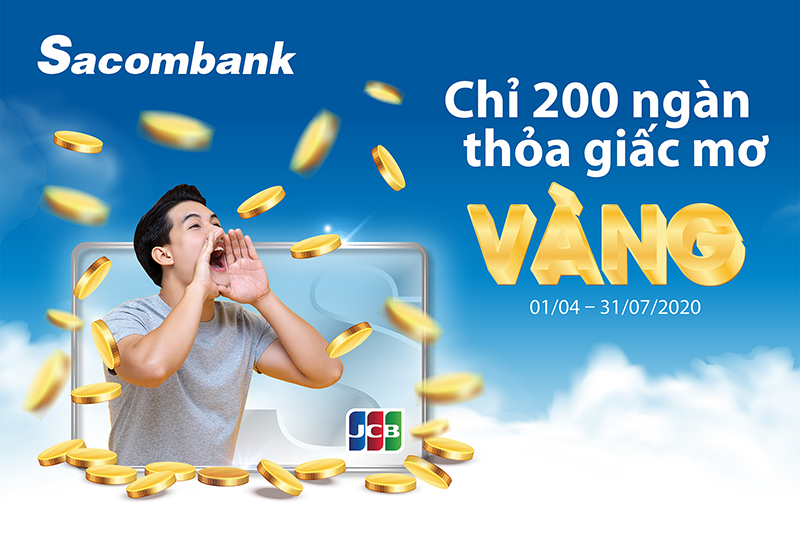 The promotion is run from April 1, 2020 to July 31, 2020 for all Sacombank JCB credit cardholders (including JCB Ultimate, gold and standard cards). Accordingly, for every VND200,000 of spending, the cardholder will receive a one-time lucky draw code. The number of lucky draw codes is calculated on each invoices when making transaction and cannot be accumulated. The campaign includes 4 rounds to identify 20 winning cardholders (5 cardholders / month).
The winners list of the 3rd lucky draw round is updated at khuyenmai.sacombank.com. 
Besides, from now until the end of September 15, 2020, Sacombank will launch the promotion program: Surfing Sacombank JCB, hunting deals, getting the "apple" for customers who open new Sacombank JCB international credit card (including standard card and the Ultimate tab). Specifically, within 15 days from the opening of new JCB international credit card and there are incurred shopping spending with invoice from VND200,000, the cardholder will receive a lucky draw code to have a chance to win attractive prizes such as: 1 special prize is 1 MacBook Air 13 256GB 2019 laptop, 1 first prize is 1 iPhone 11 128GB, 1 second prize is a 40mm Apple Watch 5 (GPS) and 3 third prizes: an Airpod 2 for each prize. Each customer is entitled for 1 lucky draw code per card type during the program period.
Sacombank JCB international credit card - a card issuer brand from Japan - is an essential backup financial source for all spending needs with many utilities such as: buy first, pay later with interest free up to 55 days; No collateral required; Pay and withdraw money from around the world, especially by touching cards on POS machines or scanning QR codes at global card acceptance points and withdrawing without plastic cards by scanning QR codes at Sacombank ATMs on nationwide; Cash withdrawal of 90% of the credit limit at all domestic and international ATMs; Shopping via Internet; 0% interest installment payment for anytime, anywhere and cash withdrawal transactions at Sacombank ATMs; Accumulate reward points when shopping to exchange for gifts or get a refund; Discount up to 50% when dining, shopping, traveling... To open JCB card, customers just need to have minimum income from VND5 million / month if customers live in Hanoi, Ho Chi Minh City and VND3 million / month if in other provinces. 
For detailed information, please kindly contact Hotline 1900 555588 or 028 3526 6060; access to website khuyenmai.sacombank.com and register card online at website dangkythe.sacombank.com.