Enjoy many incentives with Sacombank Tiki Platinum cards
11/12/2020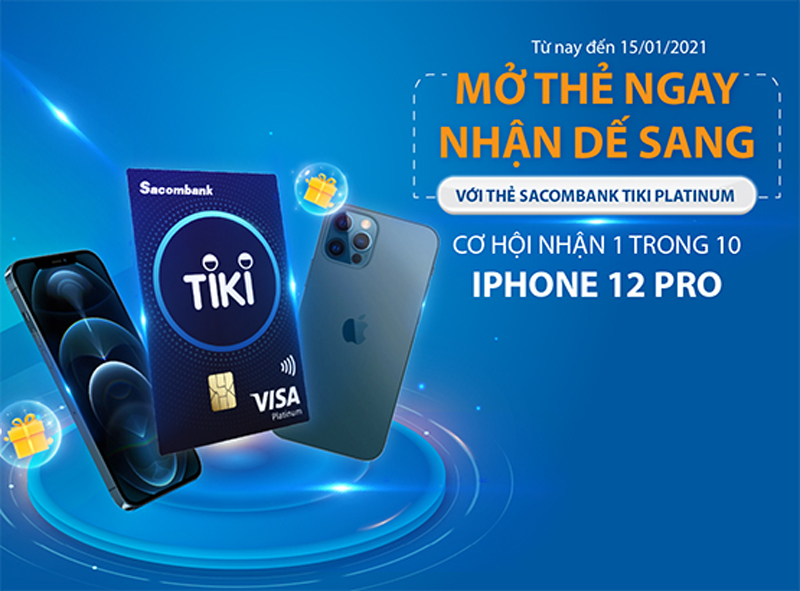 Accordingly, when opening and successfully activating a Sacombank Tiki Platinum card from 15/11/2020 to 15/01/2021, customers will receive one reward code. All customers who open a card before and after November 15th, 2020 with any spend of at least VND1 million on Tiki (website or app) during this period will also receive one reward code (sent via SMS). The online lucky draw "Open a card now - Get a smartphone" will take place on Tiki LIVE, the first phase is on December 23rd, 2020, the second phase is on January 23rd, 2021 with the prizes of 10 coupons worth VND30 million to buy iPhone 12 Pro on Tiki.
In addition, the first 300 Sacombank Tiki Platinum cardholders to buy iPhone 12, iPhone 12 mini, iPhone 12 Pro / Pro Max on Tiki from November 27th, 2020 to January 31st, 2021 will receive a discount of VND2 million and cashback up to VND1.6 million. This promotion is also applied for customers with a 0% interest installment plan.
Furthermore, in December 2020, the first 200 customers to open a new Sacombank Tiki Platinum credit card and spend from VND3 million on Tiki (accumulation is allowed) within 30 days from the date of activation will get a 100% refund of annual fee.
The Sacombank Tiki Platinum credit card has outstanding features such as the highest cashback rate in Vietnam's e-commerce sector with cashback up to 15% for shopping on Tiki; a 50% annual fee refund and a free TikiNOW package of VND 499,000 when activating the card and spending from VND2 million on Tiki. In the coming years, the annual fee will be refunded 20% from the second year to the fifth year when accumulated spends are VND12 million per year; 0.5% cashback when customers transact at other merchants, global travel insurance of VND11.6 billion, etc. In addition, customers can buy now, pay later with an 0% interest up to 55 days without collateral; accumulate reward points on purchases to redeem gifts or get a refund; enjoy a 0% interest installment plan anytime, anywhere and withdraw money from Sacombank's ATMs. To qualify for a credit card, customers based in Ha Noi and Ho Chi Minh City need to have a monthly income from VND5 million and from VND3 million for customers based in other provinces.
For more information, please call our hotline at 1900 5555 88 or 028 3526 6060, visit the website khuyenmai.sacombank.com and apply online for a card at dangkythe.sacombank.com.