Everyday discount when making payment with Sacombank Visa cards
04/07/2020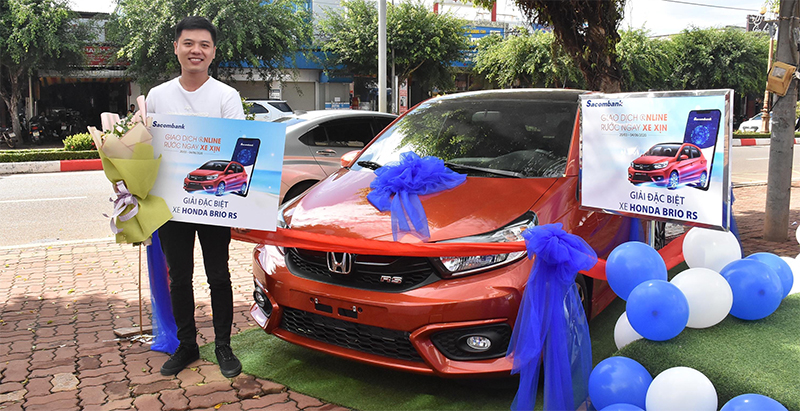 Accordingly, the cardholder is entitled to a discount of VND20,000 when ordering Grab (including GrabCar, GrabBike, GrabExpress) with promotion code STBVISA; VND30,000 off for shopping at Shopee and Tiki applied for invoice with minimum of VND150,000; free combo 3 pieces of fried chicken and 1 glass of Pepsi for any bill at Lotteria restaurant chain; VND20,000 off  for the minimum bill of VND25,000 at Gong Cha milk tea; VND20,000 off at Phuc Long; buy 2D movie tickets for only VND50,000 at CGV cinema complex; VND50,000 off for minimum bill of VND250,000 at Innisfree cosmetic stores and Couple TX fashion system. Each customer is entitled to a maximum of 12 offers in each business unit, applicable to all days of the week for Grab, from Monday to Thursday for Shopee, Tiki and from Friday to Saturday for the rest.
Sacombank Visa is an international card issuer with many utilities such as making transactions around the world, especially scanning QR codes to pay and withdraw without plastic cards; making online transaction; discount up to 50% when eating, shopping, traveling...; Sacombank Pay application support customers to comprehensively manage cards 24/7 and proactively perform inter-bank transfers, make mobile top-up, pay bills, register for fast consumer loans and installments payment...
With Sacombank Visa credit card, customers can spend first, pay later with 0 interest rate free up to 55 days without collaterals; accumulate reward points when shopping in exchange for gifts or get a refund; 0% interest installment for anytime, anywhere and cash withdrawal at Sacombank ATMs. To open cards, customers are required to prove income from VND5 million/month if living in Hanoi, Ho Chi Minh City and from 3 million/month if living in other cities.
With Sacombank Visa payment card, it will be linked with the payment deposit account opened at Sacombank. With the card, customers can use money in their account to make transactions anytime and anywhere with E-banking services, Sacombank Pay application and all Sacombank ATMs nationwide. In order to open the card, the customer only needs National ID or passport.
With Sacombank's international prepaid card, customers are not required to prove their income or open an account for buying the card and topping up to use in payment transactions or buying card as a gift to friends and relatives. The amount of money that customers can top up to the card is up to VND100 million and has no limit on the number of deposits.
For detailed information, please kindly contact Hotline 1900 5555 88 or 028 3526 6060; access to website khuyenmai.sacombank.com and register online for card issuing at website dangkythe.sacombank.com.