Sacombank implements QR payment at BC Card's POS in Korea
31/12/2020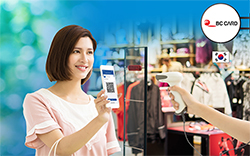 To make a payment, customers click the icon "BC Card QR Payment" in the "Transaction" section of Sacombank Pay, choose a cash source from Sacombank Pay account and create a valid QR code within 1 minute. Vendors in Korea will scan the QR code and enter the amount to complete the payment.
With 36 member banks in Korea, providing services to more than 38 million cardholders over 55 million cards in circulation and developing a system of more than 3 million POS worldwide, BC Card is the No.1 card processing payment in Korea and ranks No. 2 globally in terms of card payment accepting points and having affiliation with a network of National Financial Institutions. Currently in the Korean market there are more than 110,000 QR payment POS under the BC Card system, concentrated in duty-free supermarkets, Lotte shopping centers, convenience stores, ginseng stores, souvenirs, tourist attractions...
BC Card QR payment is not only an effective payment method in Korea, but also a safe and effective solution for the Vietnamese when travelling to Korea. Currently, there are about 200,000 Vietnamese people living and studying in Korea. According to the Korea Tourism Board, in 2019, more than half a million Vietnamese people traveled to Korea, making us one of the largest tourism source markets of Korea. Meanwhile, the number of Korean tourists coming to Vietnam also reached more than 3.86 million. It is expected that in January 2021, Sacombank will launch an online QR payment method on Korean e-commerce sites as well as deploy QR payment for Korean visitors when traveling in Vietnam.
Sacombank Pay is a financial management application, fully integrated with modern banking features and utilities to provide customers with outstanding experiences in the digital banking field, such as opening an online payment account, making instant transactions, choosing preferential account numbers with free of charge, saving money, disbursing consumer loans within 3 minutes, managing cards / accounts, opening online cards, paying bills, shopping online, making EMV QR payment and contactless payment with POS machines or with Sacombank's mMerchant app...
For further information, please kindly contact Hotline 1900 5555 88 or 028 3526 6060; visit website dangkythe.sacombank.com.