Sacombank kicks off stage 3 of the campaign "Steps for the community"
07/12/2020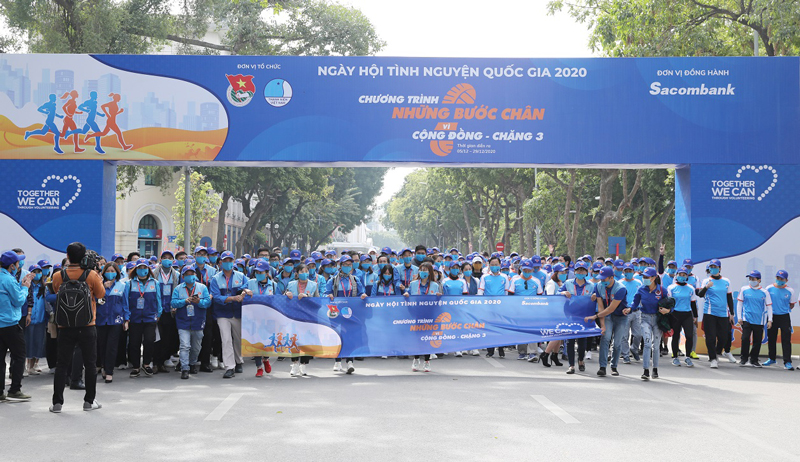 The official registration for the race was opened at 00:00 on December 5, 2020 and will close at 23:59 p.m. on December 29, 2020 at www.sacombankrunnersclub.com. Stage 3 also starts to record the number of kilometers from 00:00 on December 5, 2020 to 23:59 p.m. on December 29, 2020. The campaign does not limit the participants and does not specify the distance to register, athletes can go or jog, only need an average speed from 4 minutes / 1 km to 20 minutes / 1 km. In addition, to double their achievements, a participant downloads the Sacombank Pay application, performs "Online Authentication" (as instructed), selects "Join" Sacombank Runners Club, logs in to your SacombankRunnersClub account and confirms to link accounts.
Each participant will receive a Certificate and Electronic Medal in his personal account at www.sacombankrunnersclub.com. In addition, 200 athletes (100 men and 100 women) with the highest cumulative kilometers will be awarded the Certificate of the Vietnam Youth Union, a embossed medal and t-shirt; Gifts will be sent to the athletes at the registered address at the website.
Ms. Nguyen Duc Thach Diem - Member of the Board of Directors cum CEO of Sacombank, Mr. Phan Dinh Tue - Deputy CEO of Sacombank together with Mr. Nguyen Anh Tuan, The First Secretary of the Central Youth Union, Chairman of the Vietnam Youth Union (middle) leads At the beginning, the Sacombank delegation merged with the stream of people walking / jogging in response to the National Volunteer Day, combined with continuing the online running / jogging program "Steps for the community". This is the third stage that Sacombank has accompanied the Vietnam Youth Union to implement this campaign.
"Steps for the community" stages 1 and 2 previously attracted 36,333 athletes with the donated money used to build a community cultural house for Chut ethnic minority in Quang Binh province and community culture center for the Lu ethnic group, Ban Hon commune, Tam Duong district, Lai Chau province.
"Steps for the community" is an activity that takes place on a national scale to raise funds to build a community cultural house for ethnic minorities. This is a practical activity, playing an important role in preserving and developing national traditions. Community culture house will be a place where people come to live, practice, learn, to improve their physical, spiritual spirit and strengthen solidarity. This is also a place to collect, store, research and promote the national cultural heritages, associated with socio-economic development goals where ethnic minorities live in particular and the country in general.
In addition, Sacombank is also deploying the online running tournament "Celebrating Golden Birthday - With thousand words of gratitude" for all employees across the system, which takes place from December 1, 2020 to December 29, 2020. This race is part of activities series to celebrate Sacombank's 29th anniversary, encouraging each employee to complete a minimum distance of 2.9 km per day.