Sacombank successfully held the 2019 online Annual General Meeting
05/06/2020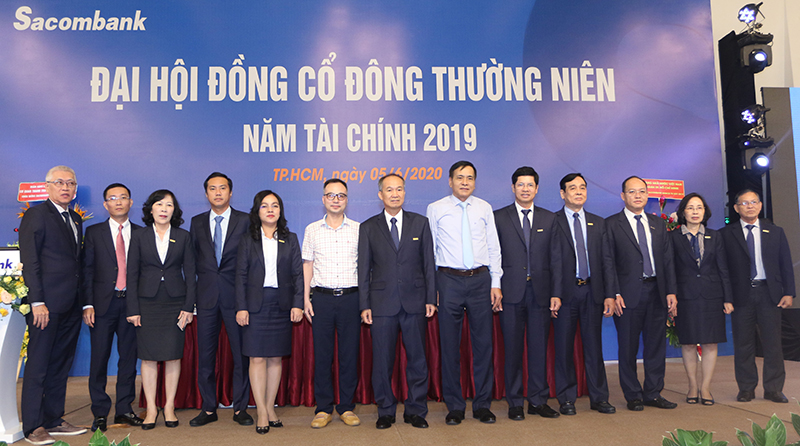 2019 Annual General Meeting of Sacombank
Sacombank is the first bank in Vietnam to hold the online AGM for all the shareholders nationwide to attend in compliance with regulations and guidelines on preventing and fighting the Covid-19 pandemic. The online AGM is conducted on the website http://codong.sacombank.com with a user-friendly interface and easy navigation. The modern technology utilization taking the most advantage of the cloud computing allowed a large number of shareholders to attend with the high scored stability and safety. With each personal device connected to the internet, shareholder can pro-active in participating, monitoring, sending feedback and opinions and voting without physical presence. 

Mr. Duong Cong Minh, Chairman of Sacombank gives an opening speech at the AGM
As of year-end 2019, total assets of Sacombank was VND453,581 million, up by 11.7% yoy; total mobilization was VND414,185 billion, increased by 11.9% in which mobilization from enterprises and residents rose by 14.8%; total lending was VND296,457 billion, up by 15.3%. Non-performing debts ratio was declined to 1.9%. Profits before tax was VND3,217 billion, up by 43.2% yoy and surpassed the target of 21.4%. Returns ratios continue to be improved and CAR maintained in compliance with the regulation. The operation network of Sacombank consists of 570 transaction offices nationwide, in Laos and Cambodia after opening 4 branches based in 4 northern provinces: Lao Cai, Ninh Binh, Nam Dinh and Thai Binh. 

The Board of the AGM

Shareholders experience the online AGM
In 2020, Sacombank targets its profits before tax of VND2,573 billion, total assets of VND498,400 billion, total mobilization of VND457,200 billion, total lending of VND329,400 billion and controls the non-performing debts ratio below 3%. 
In line with keeping business activities stable, Sacombank pro-actives to support customers suffering from the Covid-19 pandemic through lending promotion package, lending rate discount, loans restructuring, non-fee/fee discounted, much offers for online transactions, etc. The Bank donated VND10.7 billion for fighting the Covid-19 and salinity. As of May, 2020, profits before tax of Sacombank gained VND1,303 billion, total assets topped VND477,302 billion, total mobilization was VND434,709 billion, total lending was VND310,745 billion, non-performing debts ratio was 2%.