Sacombank, the first Vietnamese bank to deploy Tap to phone and NFC technologies
27/11/2020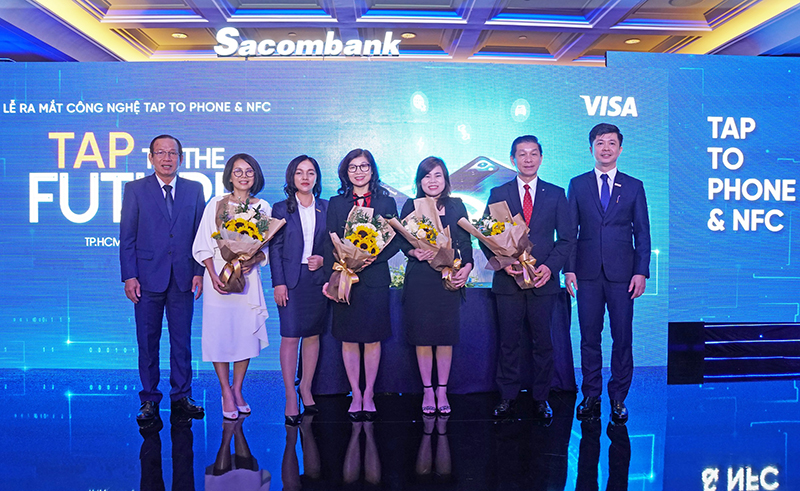 Tap to Phone technology uses software development kit (SDK) integrated by Sacombank into mMerchant, a mobile app exclusively meant for merchants, to meet the increasing demand for fast and convenient payment solutions. Tap to Phone is now used only in near-field communication (NFC)-enabled Android mobile devices, but it will be expanded to iOS devices in the future.

Mr. Pham Duc Duy, Director of Sacombank Card Center introduces Tap to phone and NFC technologies.
This solution meets the requirement for cost-effective contactless payment solutions among merchants and enterprises, especially those needing multiple mobile payment points such as insurance companies, cash-on-delivery shipping providers, restaurants getting paid at the table, and small businesses, and allows more merchants to accept cards without installing a card terminal or adding payment accessories while ensuring safe and secure transactions. With this simple operation, sellers can quickly and easily receive payments anytime, anywhere. After entering the amount, buyers just need to tap their Visa contactless cards on the seller's mobile device to complete the transaction. Cardholders don't need to sign an invoice worth under VND1 million. For invoices worth over VND1 million, the sellers will instruct cardholders to sign their names on their mobile device screen and enter an email address to receive the e-invoice.

Sacombank and Tiki sign a cooperation agreement to roll out Tap to phone, contactless payments by mobile phones.
Dai-ichi Life Vietnam, Prudential Vietnam and Tiki Corporation are the bank's first partners to deploy this modern technology.
Mr. Nguyen Minh Tam, Deputy CEO of Sacombank said, "The partnership between Sacombank and Visa has made Vietnam the first market in the world to offer Tap to phone together with Visa Rapid Seller Onboarding (RSO). For retail businesses with a strong customer base, such as insurance, e-commerce and for small and medium-sized enterprises and business households, these solutions will help to increase sales to both existing and potential customers. In addition, it will also save operating costs and contribute to promoting cashless payments, bringing benefits to the economy."

Representatives of Sacombank, Visa and Tiki leaders answer questions of guests about implementation of the latest electronic payment solutions.
A study by Visa in 2020 found that Vietnam has seen a surge in mobile wallet and payment app usage with over 85% of consumers owning at least one mobile wallet or payment app, and over 40% of consumers using contactless payments. It has 129.5 million mobile phone subscribers, more than half of them using 3G and 4G, showing strong demand for digital payment solutions.
Ms. Dang Tuyet Dung, Visa country manager for Vietnam and Laos said, "As digital payment adoption surges in Vietnam amid the COVID-19 pandemic, we would like to thank Sacombank for helping us launch Tap to Phone to make digital payments even more accessible for consumers and small and medium-sized businesses across the country. Tap to Phone is an affordable and easy-to-use means of moving into the contactless era. Tap to Phone not only has been helpful for in-store sales but also provides a contactless payment-on-delivery option to customers receiving goods at home."
Mr. Tran Dinh Quan, Chairman cum General Director of Dai-ichi Life Vietnam, shared that, "Sacombank is the exclusive bancassurance partner of Dai-ichi Life Vietnam. Tap to Phone solution initiated by Sacombank and Visa will enable our customers to pay insurance premium in a convenient and timely manner while significantly simplify the payment process and enhance customer experience."
Ms. Nguyen Thi Giang, Chief Operations Officer of Prudential Vietnam said that, "As a pioneer in digital insurance initiatives, Prudential Vietnam has continuously enhanced its products and services in line with the market's rapid pace of digitalization. Tap to Phone offers an exciting opportunity not only to speed up the process of paying for insurance premiums, but also enhance the customer experience. As a key merchant partner for Tap to Phone, we look forward to working with Visa and Sacombank to provide more choice and convenience to our valued customers."
Home deliveries are used by 87% of consumers in Vietnam, with 64% saying they paid using cash on delivery method. This makes Tap to Phone an ideal solution for Tiki as it looks to turn payments for home deliveries contactless.
Ms. Nguyen Thi Anh Van, Finance Director of Tiki Corporation, said that, "Non-cash payments currently account for 40% of transactions on Tiki, which is relatively high compared to the e-commerce average. In 2019, Tiki introduced a payment-on-delivery option that uses mobile point-of-sale devices (mPOS). This has helped to promote a move away from cash by offering customers a more convenient alternative. We are very happy to be working on this strategic partnership with Visa and Sacombank to roll out Tap to Phone, which we believe will be a significant driving force in the push toward a cashless society in Vietnam. Tap to Phone also provides convenience and safety to Tiki's shipping team as they serve customers in major cities across the country."

Experience Tap to phone technology at the induction ceremony.
On the same day, the bank in collaboration with Visa launched the NFC mobile contactless payment service for customers using its Sacombank Pay app on Android mobile phones. The service enables users to transform their mobile phones into non-physical cards to make contactless payments on NFC POS devices or Tap to Phone mobile devices instead of using their Visa cards.