Identify the first 2 customers to win a special prize of the program "Open card instantly - Million lucky deals"
19/08/2021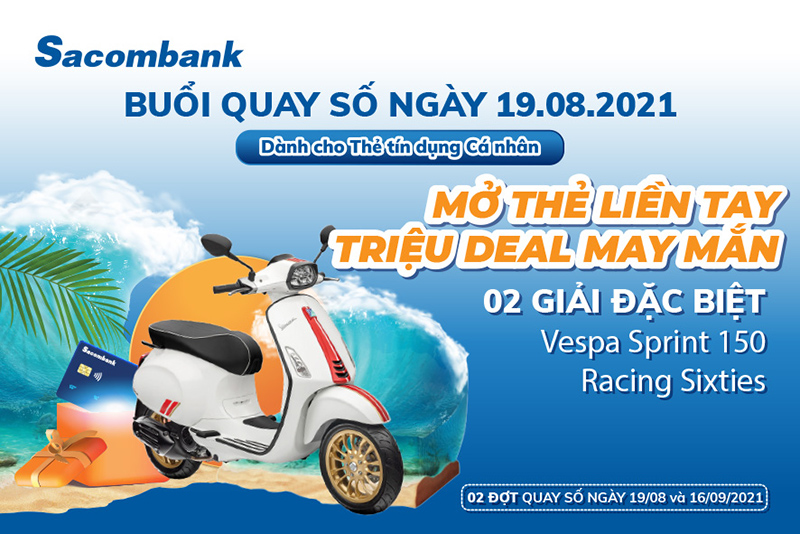 The list of winning customers is posted on website: khuyenmai.sacombank.com
"Instant card opening - Million lucky deals" is a promotion program for individual customers opening new Sacombank credit cards. Upon successful card activation and payment transactions from VND300,000 within 60 days from the date of card issuance, customers can receive up to 100 lucky draw tickets to win prizes including: 9 mace of 24K gold, 1,000 cashback prizes worth VND200,000 each, 6,000 cashback prizes worth VND100,000 each, 25,000 cashback prizes worth VND50,000 each. At the same time, each customer will also receive 1 lucky draw ticket to participate in the lucky draw with 3 special prizes, each prize is 1 Vespa Sprint 150 Racing Sixties motorbike. The next draw of the program will take place in mid-September 2021. This promotion is part of the campaign "Brilliant summer - opening million deals" lasting until August 31, 2021, deployed by Sacombank to show gratitude to customers and celebrate the Bank's 30th anniversary (December 21, 1991 - December 21, 2021).
For detailed information, please kindly contact khuyenmai.sacombank.com; Hotline 1900 5555 88; Email: ask@sacombank.com.