"Online Shopping – Bye Bye Cash" with Sacombank
30/07/2021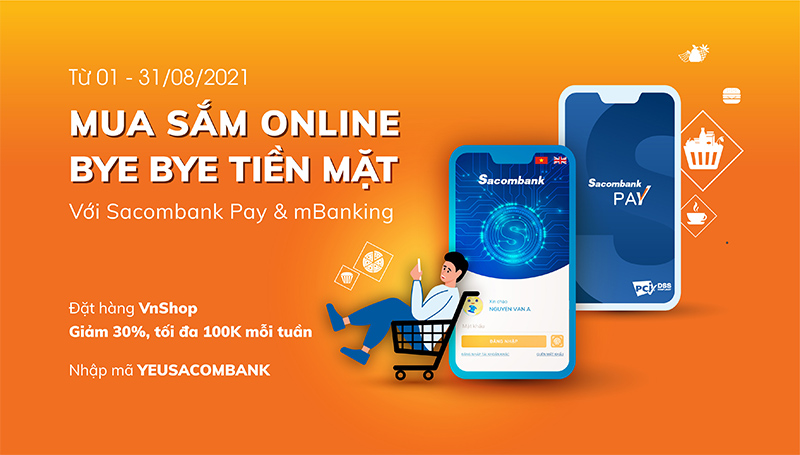 Recently, Sacombank also pioneered to deploy the feature of paying EVN electricity bills by QR code on Sacombank mBanking and Sacombank Pay applications. Customers can easily pay electricity bills with just a few steps: Log in to the application - Select the function Pay by QR code - Scan the QR code printed on the electricity bill - Select the bill period and source payment - Select Continue and make the payment.
Sacombank mBanking and Sacombank Pay are two safe and secure online financial management applications, which have been appraised and certified by reputable international auditing organizations. Customers can download it for free from the App Store or Google Play on mobile devices to install and use.
Sacombank mBanking has a full range of modern banking utilities for individuals and organizations that are continuously improved, adding safe and fast transaction features, anytime, anywhere. In addition to the basic functions such as: system internal and external money transfer, bill payment, credit card payment, mobile phone top-up/prepaid card, foreign currency sales..., Sacombank mBanking also provides many advantageous features such as: booking flight/train/bus/hotel, online shopping, payment by QR code, buying non-life insurance and many other services...
And Sacombank Pay gives customers many interesting experiences in the field of digital banking such as: opening a beautiful digital account or opening a payment/credit card, linking with domestic and international cards of all banks; actively manage cards and accounts; consumer loans with preferential interest rates from 0.65%/month; opening saving account; transferring money to any recipient via account, card, mobile number or personal QR code/VietQR; global QR payments and withdrawals by scanning QR codes; shopping through VnShop; buy lottery tickets; hotel reservations; buy air/bus/train tickets, movie tickets, Urbox e-gifts; register and manage purchases/advance installments with 0% interest rate; making utilities bills paymnet; phone top-up….
For detailed information, customers please kindly contact Hotline 1900 5555 88 or 028 3526 6060; access website https://khuyenmai.sacombank.com;