Sacombank international credit cardholders to enjoy many Black Friday deals
25/11/2021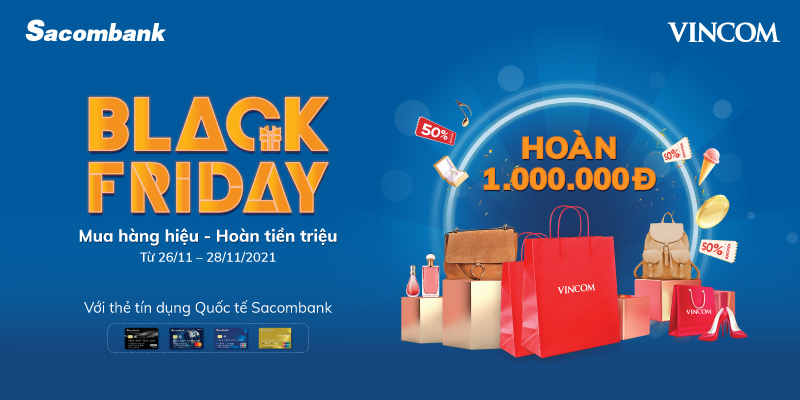 In details, the first 1,000 cardholders will get VND 1 million cashback on total spending from VND 3 million and above with accumulated receipts worth at least VND 300,000 each. Each cardholder will be refunded once in the promotion period.
Moreover, from now till Jan 31, 2021, customers opening new Visa credit card with a minimum spending of VND 1 million by Classic card and VND 2 million by Platinum, Platinum Cashback, Signature, Infinite card will get 100% cashback (maximum VND 1 million) and a complimentary fashion wallet.
Particularly, from now to Dec 17, 2021, customers opening and activating new credit cards will get 3 participation codes for every payment transaction worth at least VND 300,000 to take part in the "Resiling 30 - Igniting gratitude" lucky spin program with many valuable gifts including 30 Honda SH motorbikes, 30 iPhone 13 cell phones, 30 deposit accounts with personalized number and VND 10 million balance, 300 cash prizes worth VND 3 million per prize for personal customers etc.
With Sacombank credit cards, customers can also spend first, pay later with interest-free period up to 55 days without collateral; accumulate bonus points/miles when shopping to redeem gifts or get refunds; 0% interest instalment payment for payment transactions anytime, anywhere and withdraw money at Sacombank ATMs. To register for Sacombank credit card, customers are required to have income from VND 5 million/month if they live in Hanoi, Ho Chi Minh City and VDN 3 million/month for other provinces.
For detailed information, kindly contact Hotline 1900 5555 88 or 028 3526 6060; visit khuyenmai.sacombank.com and register online at website dangkythe.sacombank.com.