Sacombank to pay tribute to all customers on the 30th anniversary
19/11/2021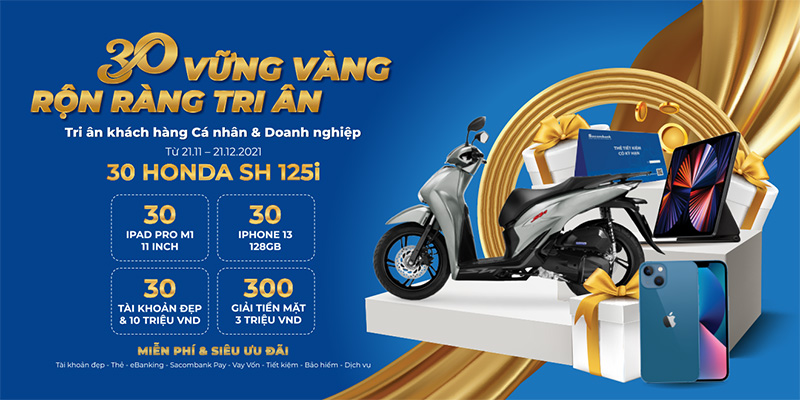 In details, Sacombank will deliver honorary gifts to loyal and frequent customers who have contributed to the Bank's success over the years.
All customers making transaction at Sacombank from Nov 21 to Dec 17, 2021 will be eligible to participate in the online lucky pin program on Dec 21, 2021 with many valuable modern gifts including 30 iPad Pro notepads with keyboards for corporate customers and 30 Honda SH motorbikes, 30 iPhone 13 cell phones, 30 deposit accounts with personalized number and VND 10 million balance, 300 cash prizes worth VND 3 million per prize for personal customers.
Sacombank also offers corporate customers with many incentives related to account and card services fees including combo fee, card annual fee, domestic payment via eBanking fee, personalized account number issuing fee. In the Bank's birthday week from Dec 20 to Dec 25, 2021, besides complimentary antibacterial masks gifted to all customer making transaction at the branches, Sacombank will offer free personalized account number for personal customer opening new deposit account and a bonus of VND 30,000 for customer making fast Napas 247 money transfer via mBanking or Sacombank Pay app with the transaction order to be the multiple of 30. On the Bank's birthday day on Dec 21, 2021, customers having the mutual birthday will be transferred VND 30,000 to their deposit accounts and free of charge when making transactions via eBanking and Sacombank Pay.
In addition, from now till Jan 31, 2022, customer applying for new Visa credit card and having a minimum spending of VND 1 million with Classic cared and of VND 2 million with Platinum, Platinum Cashback, Signature, Infinite will be 100% refunded, maximum VND 1 million and get a complimentary fashion card holder. Sacombank international and local cardholders making POS or online payment will have 1% cashback on overseas payment transaction and 0.5% cashback on domestic payment transaction.
Sacombank has recently added VND 10.6 billion to offer more incentives for customers registering for Dai-ichi Life Vietnam from now till Dec 31, 2021. Specifically, customers register for new life insurance contract of An tam hanh phuc, An tam dau tu, Dai gia an phuc, Nang buoc tuong lai, K-care with the first term fee worth at least VND 25 million paid by Sacombank international credit card will be refunded 100% on the conversion transaction fee for 0% instalment payment plan of 6 or 12-month term. Besides, customer will get the codes to participate in the lucky draw by the end of the promotion with 30 iPhones 13 Promax 256GB (VND 40 million/item) as the prizes. Customer will get one code for every contract worth of VND 3 – 10 million and continues to accumulate the next codes for every VND 10 million insurance fee paid. The first 200 customers buying K-Care Cancer insurance every month will be 20% refunded (maximum VND 1 million per contract) on the insurance fee. Customer will be 5% refunded on the insurance fee (maximum VND 2 million) when renewing the insurance contract invalid from 2 months and below.
Further information, kindly contact VIP Hotline 1800 5858 23 or +8428 3526 6060, visit khuyenmai.sacombank.com and register the new cards at https://card.sacombank.com.vn/register.