Sacombank welcomes glorious summer, unveils million deals with 4 lucky draw programs
31/05/2021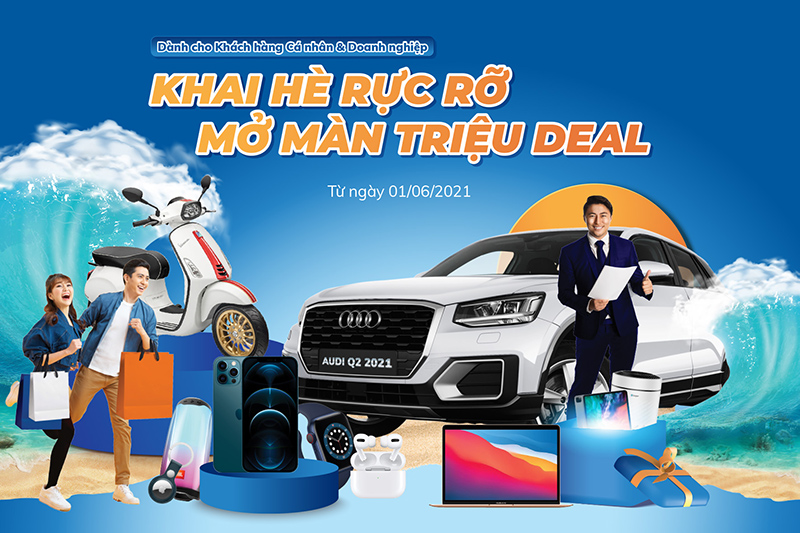 In particular, personal customers opening a new deposit account (at branch or online on Sacombank Pay app/eBanking) or re-activating their deposit account with a minimum balance of VND 1 million will be entitled to the "Dreamlike account – Million nice deals" lucky draw program with 8 special prizes – Combo Apple (iPhone 12 Promax, Apple Watch, Airpod, Airtag), 8 first prizes – iPhone 12 Promax, 16 second prizes – Apple Watch, 32 third prizes – JBL Bluetooth speaker.
New or existing corporate customers increasing transaction volumes/re-activating with qualified transaction quantity and deposit account's average balance will be entitled to the "Luxury Car – Million star deals" lucky draw program with 1 grand prize – Audi Q2 car worth of VND 1.8 billion, 6 first prizes – Gift Combo worth of VND 100 million, 12 second prizes – Gift Combo worth of VND 50 million. The winners of first and second prizes can choose a Combo of modern office equipment including interactive screen, projector, laptop, printer, notepad etc. or a Combo of office health care products including air purifier, hands auto cleaner, thermometer etc.
The 2 lucky draw programs above will be conveyed in 3 same days in Jul, Aug and Sep 2021. Besides, personal and corporate customers can open deposit account with free customized number, enjoy many services' fee waiver/reduction and so on. Corporate customers have up to 3 year payroll fee waiver while their employees can enjoy special priced Combo 4.0 including debit card, transaction alert, eBanking and Sacombank Pay app; refer new corporate cusomers and get double timing of free service periodic fee and transaction fee up to 12 months. In addition, customers open new corporate credit card or debit card will enjoy annual fee waiver and receive many high-quality office equipment.
"Perfect app - Million super deals" is the lucky draw program for Sacombank Pay users. Particularly, existing users will get a chance to participate in the online Lucky Wheel and VND 50,000 for each reference of a new user downloading the app and making any purchase of VND 50,000. New users will get a chance to play the Lucky Wheel for every VND 100,000 spending unaccumulated. The Lucky Wheel prizes are 15 24K gold teals; 8 Samsung Galaxy Watch Active watches; 2,000 gift vouchers - VND 100,000; 5.000 gift vouchers – VND 50,000 and thousands of helmets, umbrellas, raincoats, cashback chances etc.
Personal customers opening new credit card will be entitled to the "New cards – Million killing deals" lucky draw program. After activating the card and making a purchase of VND 300,000 within 60 days since card issued date, they can get up to 100 chances of playing online lucky draw to win many prizes such as 9 24K teals; 6.000 cashback prizes – VND 100,000; 25,000 cashback prizes – VND 50,000. Concurrently, each customer will get a code to participate in the 3 special lucky draw days in Jul, Aug, Sep 2021 to find out the winners of 3 Vespa Sprint 150 Racing Sixites scooters.
Further information, kindly contact Hotline 1900 5555 88 / +8428 3526 6060; Email: ask@sacombank.com or visit khuyenmai.sacombank.com.