The first lucky draw of the 'Unified Spring – Grateful Tet' program names 69 lucky winners
13/01/2021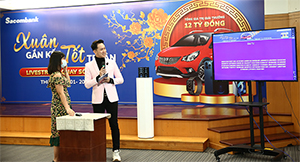 The 'Unified Spring – Grateful Tet' is a program for individual customers with the prizes structure including 8 Vinfast Fadil cars, 16 iPhone 12 Pro smartphones, 20 Apple Watch vouchers, 32 iPads 8, 70 Remax gift sets (including power banks, bluetooth speakers and headphones), and 1,400 Remax backup chargers. The promotion is available from January 1st, 2021 to February 28th, 2021.
Customers will accordingly receive a reward code to participate in the draw when making deposits from VND5 million with a 1-12-month term, 30-99-day term deposits, Trung Nien Phuc Loc savings from VND10 million or Tich Tai savings, Phu Dong savings, Future deposits, with the amount from 1 million dong at Sacombank's transaction offices or online channels (Internet Banking, Mobile Banking, Sacombank Pay), or first login E-banking (including Internet Banking, Mobile Banking) or 24/7 interbank money transfer with an amount from VND5 million on e-banking.
The 'Unified Spring – Grateful Tet' program also has many other incentives for customers. The first 200 customers who log in e-banking for the first time each day will receive VND 50,000 (it is not applicable for customers who only use inquiry facility of e-banking). Customers who are using or have recently activated e-banking services and newly purchase Dai-ichi Life Vietnam's life insurance will get 10% cashback when paying the first period's premium.
Besides, Sacombank is also implementing many other promotions for individual customers on the occasion of the new year 2021. In particular, from now until February 11th, 2021, when buying air tickets, train tickets, car tickets or booking hotels on Mobile Banking or Sacombank Pay app, customers will get a 50% refund, up to VND200,000. For online shopping on Vnshop with Mobile Banking or Sacombank Pay app, customers are entitled to a 50% discount, maximum 2 times a week and VND100,000 VND a time. In 2021, Sacombank cardholders who make online payments or through POS will be refunded 1% for international transactions and 0.5% for domestic transactions, applied to the first transaction of the day with an amount from VND2 million and cashback amount up to VND18 million per customer. From now until March 31st, 2021, customers who have savings at least VND100 million with a 3–6-month term and buy Dai-ichi Life Vietnam's life insurance will receive cashback equivalent to 1% per annual interest rate of the deposit term.
Furthermore, from now until March 31st, 2021, Sacombank also offers many incentives to corporate customers such as no fee for current account, e-banking, account transactions, payroll services, and so on. Corporate customers are especially free to choose the account number up to 6 digits when opening their new payment account, as well as get their annual fee waived for the first year when opening a new credit or debit card. From now to February 5th, 2021, businesses with the highest credit or debit card transaction value will receive a premium travel suitcase or an Omron thermometer.
The list of winners is posted on the website khuyenmai.sacombank.com.
For more information, please visit our website
www.khuyenmai.sacombank.com
, call our 24/7 hotline at 1900 5555 88, email to
ask@sacombank.com
.