Attractive cashback when paying with Sacombank credit cards
22/03/2022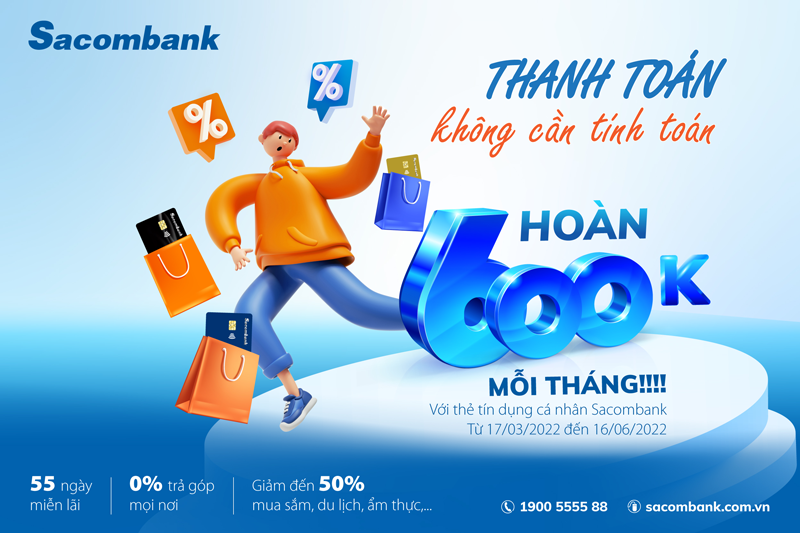 In addition to outstanding utilities such as scanning QR codes for payment and withdrawal without plastic cards; online shopping; discount 50% when dining, shopping, traveling... especially Visa Classic, Gold, Platinum, Signature and Infinite cardholders will enjoy free global online shopping insurance. Specifically, when shopping online at any website, cardholders will be insured against damaged, incorrect, incomplete, or not received goods after 30 days from the expected delivery date with the compensation value up to VND23 million.
Sacombank personal credit card is an essential backup financial source for all spending needs with many utilities such as: accumulating bonus points/flying miles when shopping to pay with bonus points, redeem gifts or get refunds; unlimited maximum credit limit; pre-purchase, post-payment is free of interest up to 55 days without collateral; make payments and withdraw money around the world, especially payments by tapping the card on the POS machine or scanning the QR code at card acceptance points worldwide and withdrawing money without a plastic card by scanning the QR code at Sacombank ATMs on nationwide; shopping over the Internet; 0% interest installment payment for payment transactions anytime, anywhere or cash withdrawal transactions at any Sacombank ATM; up to 50% off when dining, shopping, travel; actively transact through e-banking channel, Sacombank Pay application...
For detailed information, customers please kindly contact: Hotline 1900 555588 or 028 3526 6060; access website khuyenmai.sacombank.com and register online card at website card.sacombank.com.vn.