Free 0% installment conversion fee for transaction making by Sacombank JCB international credit card
17/06/2022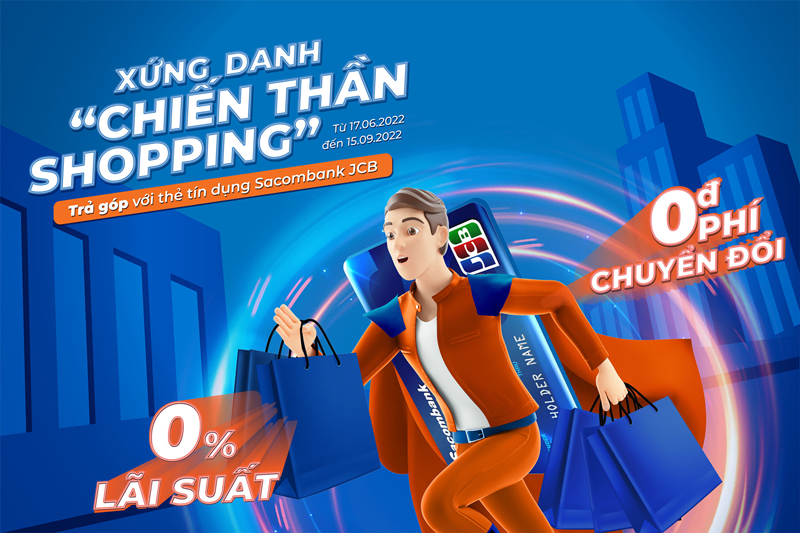 From now until the end of September 15, 2022, Sacombank will launch a promotion program "0 VND conversion fee - 0% interest" for customers who own Sacombank JCB international credit cards.
Specifically, when shopping and choosing 0% interest installment payment with a term of 6 or 12 months for minimum payment transactions of VND 15 million by Sacombank JCB international credit card, customers will be free of charge for installment conversion fee.
Customers register to participate in the promotion by texting to 8149 (charge of VND 1,500) with the syntax: THE TGJCB <code> 6T or 12T depending on the term of installment selection; The transaction code consists of 6 numbers printed on the invoice, or sent by Sacombank via SMS, or customers can look up via Hotline 1900 5555 88. Thus, during the above period, Sacombank JCB cardholders have not only received the installment payment interest rate incentive at 0% but also got free fee to convert to installment.
This offer applies to both existing and newly opened Sacombank JCB cardholders. Each cardholder is free to convert to installments up to 3 times during the program period.
Besides, Sacombank has many other attractive incentives for Sacombank JCB cardholders such as: 20% off daily at TOP 100+ Japanese, Asian and European restaurants; Discount up to VND 200,000 when paying for meals at TOP 10 famous restaurants and cafes such as Gogi, Manwah, Starbucks, KOI Thé, etc. Cardholders can combine discounts with Sacombank's flexible installment feature to enjoy the upcoming summer.
Sacombank JCB international credit card - a card brand from Japan - is an essential backup source of finance for all spending needs thanks to many utilities such as: pre-purchase, post-pay, interest-free for up to 55 days; convenient shopping and payment via the Internet; cash withdrawal up to 90% of credit limit at all domestic and international ATMs; 0% interest installment payment for all payment transactions;…
In the series of JCB Annual Meeting 2021, Sacombank is honored to receive 3 awards from the Japanese international card organization JCB: The leading bank in card spending sales, the leading bank in the number of credit cards currently in use and the Bank led the growth in card payment acceptance. This is the 5th year in a row that Sacombank has been honored and awarded with great prizes for JCB cards, showing Sacombank's increasingly solid position in pioneering exploitation as well as leading in issuing this card line in the market Vietnam.
For detailed information, customer please kindly contact Hotline 1900 5555 88 - 028 3526 6060 or access to website sacombank.com.vn.
Card registration online at website https://card.sacombank.com.vn/