Full of offers at Sacombank on the occasion of 8/3
05/03/2022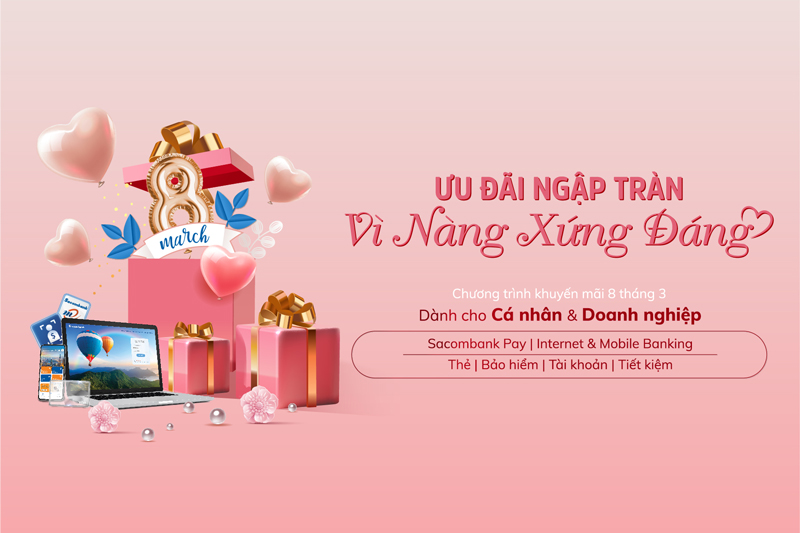 Specifically, the incentives take place as follows:
From March 07 to 31, 2022, all Sacombank individual international credit card holders having dining and shopping transactions at restaurants such as Hutong, Sumo Yakiniku, Daruma, iSushi, GoGi House, GoGi Steak, K -Pub, Viet Pho, Pizza Company, Parkson shopping mall, SBJ jewelry, Love flower shop will be refunded up to VND200,000 or 10-20% off on each payment.
From 07 to 11/3/2022, female customers open new account at Sacombank's transaction points will get free Combo Plus, 4.0 in 6 months; female customers who open term deposit accounts with a term of 6 - 36 months, amount from VND 100mio will get VND83,000 as a gift.
Especially, on March 8, 2022, the first 830 female customers make Napas 247 fast money transfer via online channel from VND5 million and the first 830 female customers make top-up to their phones via online channel from VND200,000 will be given VND83,000. Female customers who sign new or renew their property preservation, or rent a safe, will be free of charge contracts worth less than VND1 million.
In addition, on this day, female customers participating in K-Care Cancer Insurance with the fee from VND3 million and other life insurance products with the fee from VND25 million at Sacombank will be received VND83,000 and VND830,000 respectively. At the same time, all customers who join a new Dai-ichi life insurance at Sacombank will also receive a refundation up to 15% and refund of the installment conversion fee when paying via credit card.
For corporate customers, from now until the end of August 2022, Sacombank will apply many attractive incentive policies such as: free annual fee, refund, give away Macbook Air 13" M1 256G, Airpods 3, high-class laptop case for corporates that open a new Sacombank MasterCard business card and have a qualified transaction. Sacombank will also send flowers to businesswomen at businesses that are Sacombank's VIP customers on the occasion of March 8.