Instant refund of VND 200,000 when ordering online services through Sacombank
15/03/2022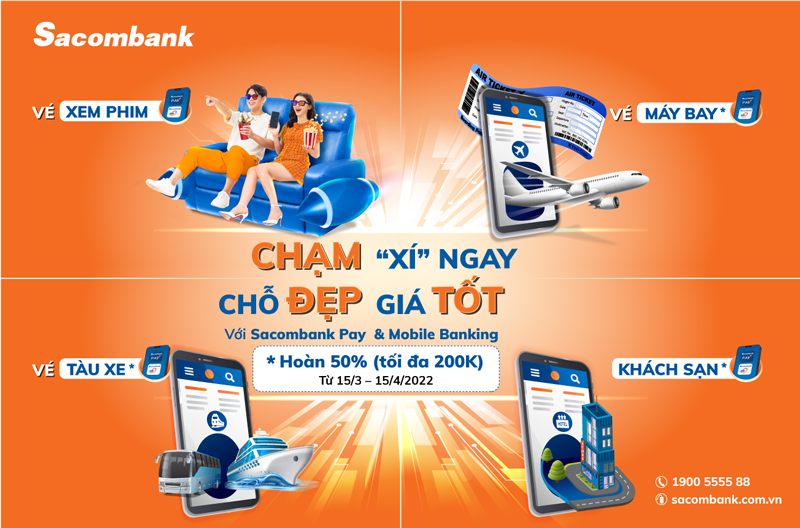 Previously, from March 1, 2022, Sacombank has been waiving fee of online money transferring for all individual customers using Internet Banking, Mobile Banking and Sacombank Pay. Specifically, customers will be free of charge for all money transfer transactions via Internet Banking, Mobile Banking and Sacombank Pay with a transfer limit up to VND10 billion /transaction/day. Especially, customers using Combo 4.0 will be waived issuance/annual fee of payment card, free of charge automatic transaction notification on Sacombank Pay and account management. In addition, Sacombank also free of charge various services on Sacombank Pay such as opening account with lucky number, withdrawing cash by QR at ATM, maintening service and account without requiring minimum amount.
Sacombank mBanking and Sacombank Pay are financial management applications, fully integrated with modern banking features and utilities such as money transfer, payment, phone top-up, deposit, loan, travel ticket purchase, hotel booking, buying movie tickets, bus tickets, buy non-life insurance and experience the modern payment technology scanning QR codes... to bring customers many interesting digital banking experiences. Customers can easily download the app for free from the App Store or Google Play.
For detailed information, customers please kindly contact all Sacombank transaction point nationwide, hotline 1900 555588; Email: ask@sacombank.com; Website: www.sacombank.com.vn.