Opening Sacombank accounts with preferred numbers and getting full package of benefits on VNPT Money app
02/12/2022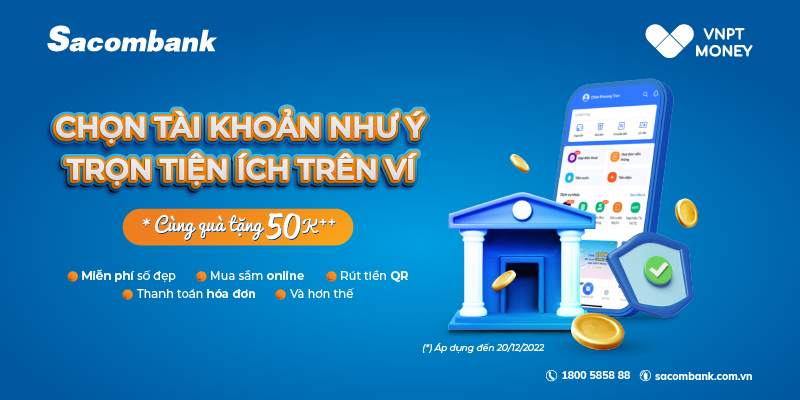 In recent years, Sacombank has constantly invested in its IT infrastructure, accelerated digitisation through its entire system, co-operated with partners to expand its scope and improve service facilities in the digital environment towards increasing customers' choice for Sacombank's online transaction channels in particular and digital payment channels in general.
The cooperation between Sacombank and VNPT-Media marks the two brands' efforts to use technology to deliver more convenient services and practical value to customers. With just a phone in hand, through e-KYC, customers can open a Sacombank payment account after completing some simple steps on the app and instantly get many incentives such as choosing accounts with preferred numbers for free and waiver of fees for account management, annual recurring charge for the first year and online money transfer. They can also register to open a Visa international payment card on the VNPT Money app with the transaction limit corresponding to the payment account limit.
The bank account, after being created, will be automatically linked to the VNPT Money e-wallet so that customers can utilise all the wallet's utilities and features such as free transfer and receipt of money to/from other VNPT Money e-wallet accounts, and payment accounts of 36 banks via 24/7 fast money transfer or scan VietQR code, top-up/withdrawal money for free at thousands of transaction points of VinaPhone and its partners nationwide, and making rapid transaction at more than 500,000 payment acceptance points of VNPT MoneyQR, VNPayQR, PayooQR, etc. Besides, VNPT Money meets most daily payment needs, including for electricity, water, telecommunications, tuitions, public services, online shopping, airline tickets, and insurance, and offers many monthly incentives.
Along with this cooperation, Sacombank and VNPT-Media aim to make it easier for customers across the country, even those living in rural and remote areas, to access and use digital financial services of the bank and the e-wallet. Thereby, demonstrating the determination of the two sides to cooperate for mutual development and jointly promote cashless consumption.
On this occasion, customers who successfully open a Sacombank payment account on VNPT Money app will get a voucher for a 50% discount on payment value (up to VND50,000) for any service on the VNPT Money app besides other incentives with an average value of VND400,000 per customer. Detail at: https://km.vnptmoney.vn/khuyenmai