Sacombank gives on the spot rewards to Nguyen Thanh and Ngoc Hoa - Two excellent marathon runners
20/05/2022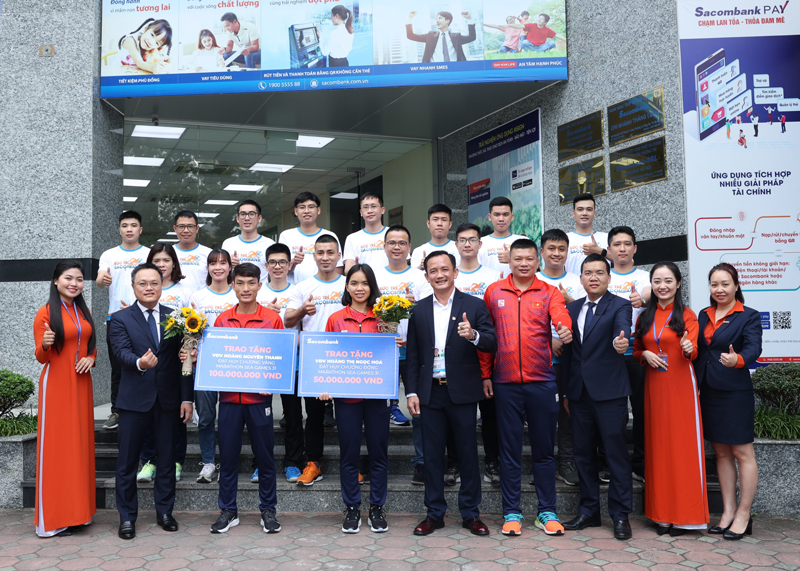 With an impressive record of 2 hours 25 minutes 07 seconds 84, athlete Hoang Nguyen Thanh not only brought the 20th gold medal to Vietnam Athletics but also became the first Vietnamese athlete to win a gold medal in the men marathon at the SEA Games.
In the women's marathon, although it was the first time participating in the SEA Games, Hoang Thi Ngoc Hoa still tried her best to complete her part and win the bronze medal for Vietnam.
As one of the corporates with exciting sports activities, especially walking/running activities, Sacombank understands the value that this activity brings to the health and the hard work of athletes in the process of physical training to be able to concentrate, determined to rise and reap impressive results.
Therefore, not only having the value of rewarding specific achievements, the award given by Sacombank also spirit encouragement for Vietnamese athletes who have surpassed themselves to compete for country, offering the audience exciting matches. We hope that athletes will always play their best, fair-play and contribute to promoting the image of the Vietnames people and Vietnam country to the world.