Sacombank thanks customers through thepromotions of "Happy Golden Birthday - Thousands of Offers"
06/12/2022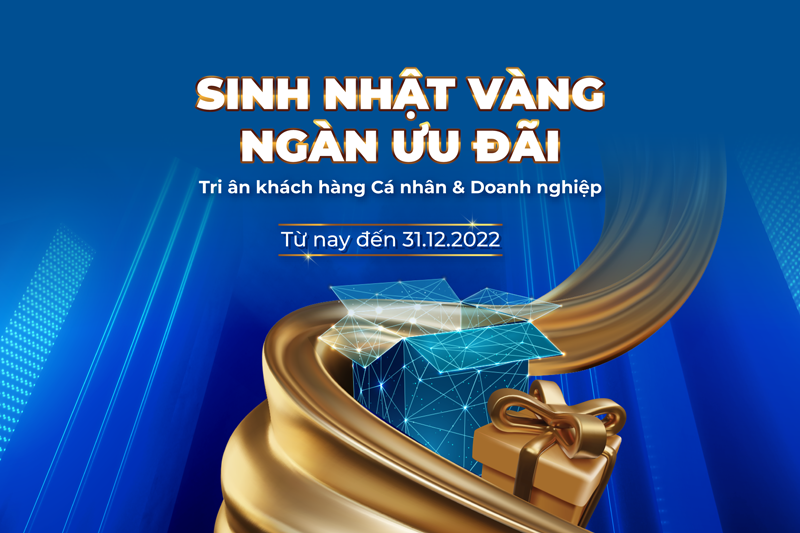 In particular, personal customers making savings deposits or using services at the counter or on Internet Banking/Mobile Banking/Sacombank Pay or buying new insurance policies will receive reward points they can redeem for gifts. Customers will get 1 reward point for every VND20 million deposited at the counter, every VND50,000 worth of service fees or USD2,000 worth of remittances at the counter, VND5 million new insurance premium paid, successful activation of Internet Banking/Mobile Banking, successful registering and identification for Sacombank Pay app, and mobile top-ups from VND200,000. Each point is equivalent to VND10,000, and customers can redeem for gifts when they accumulate at least 5 points.
1,000 customers with the highest average balance in their current account from 01/12/2022 and 21/12/2022 will receive VND2 million; customers who transact at the counter will get a 30% discount on fees, and those who top up their phones with at least VND500,000 via Mobile Banking will get a VND100,000 discount; those who sign up for a new life insurance contract will be eligible for free instalment conversion, a refund of up to 30%of premium and an additional bonus of up to VND1 million.
New personal credit cardholders will get issuance and lifetime annual fees waived (transaction volume conditions are applicable), free conversion of 6 and 12-month installments for the first installment transaction worth from VND6 million. Customers getting new Sacombank Visa and Mastercard credit cards are entitled to a refund of up to VND500,000 on successful card activation and carrying out transactions worth at least VND1 million.
Corporate customers will enjoy waiver of fees for account management, eBanking transactions, counter transactions, and salary payments, and a cut in guarantee and international payment fees during the programme. To mark its 31st founding anniversary, Sacombank will also give away gifts worth VND10 million each to 31 customers who meet certain conditions. These are practical gifts for businesses to present their employees on special occasion of Tet holiday.
Besides, customers getting a new business credit card will have the annual fee waived for the first year, get zero interest instalments, 3% cashback (up to VND2 million), and free use of airport lounges and other exclusive privileges, with VIP corporate customers getting extra spa services worth up to VND7.5 million and other special gifts.
For more information, please contact hotline 1800 5858 88 or visit website sacombank.com.vn.