Sacombank to conduct many promotions for new credit cardholders
31/03/2022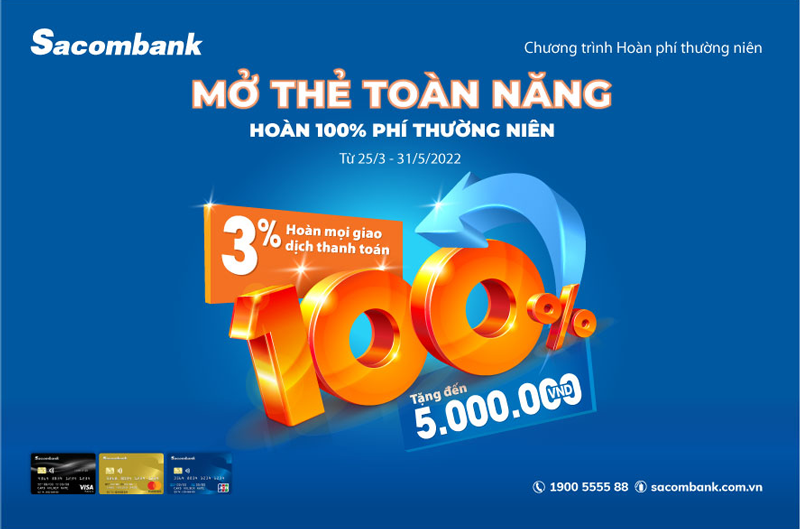 Accordingly, the annual fee cash back promotion is applicable for customers opening new credit cards, paying the first year annual fee fully and making a payment transction with specific minimum amount within 30 years after the activation date. In details, customer will have a refund of maximum VND3 million for Visa Infinite card and VND1 million for the other cards including Visa Classic, JCB Classic, Mastercard Gold, Visa Platinum, Visa Platinum Cashback, Visa Signature, JCB Ultimate.
Especially, the new principal credit cardholder will get a turn of opening the lucky present if the card registered at the transaction point and 3 turns if the card opened online via website/Sacombank Pay to have a chance of winning attractive refund prizes such as a prize of VND5 million cash back; 5 prizes of VND3 million cash back; 10 prizes of VND1 million cash back; 100 prizes of VND500,000 cash back; 500 prizes of VND200,000 cash back; 1,000 prizes of VND100,000 cash back. The prizes will be refunded into the credit cards.
In addition, from now till June 16th, 2022, persoanl credit cardholders will get 3% cash back with maximum amount of VND600,000/month for every payment transaction worth VND3 million, which applies for both online and point-of-sale purchases. The refunds will be transferred to the credit cards used to make payment transactions. Customers participate in the promotion by sending a text message to 8149 with the syntax: THE KMHT 1234 (1234 stands for the last 4 digits o the credit card).
With Sacombank credit cards, customers get a financial back-up for all spending requirements and can also spend first, pay later with interest-free period up to 55 days without collateral; accumulate bonus points/miles when shopping to redeem gifts or get refunds; 0% interest instalment payment for payment transactions anytime, anywhere and withdraw money at Sacombank ATMs.
For detailed information, kindly contact Hotline 1900 5555 88 or 028 3526 6060; visit sacombank.com.vn and register online at website http://card.sacombank.com.vn/.