Sacombank to launch Sacombank Pay Member Get Member program
05/04/2022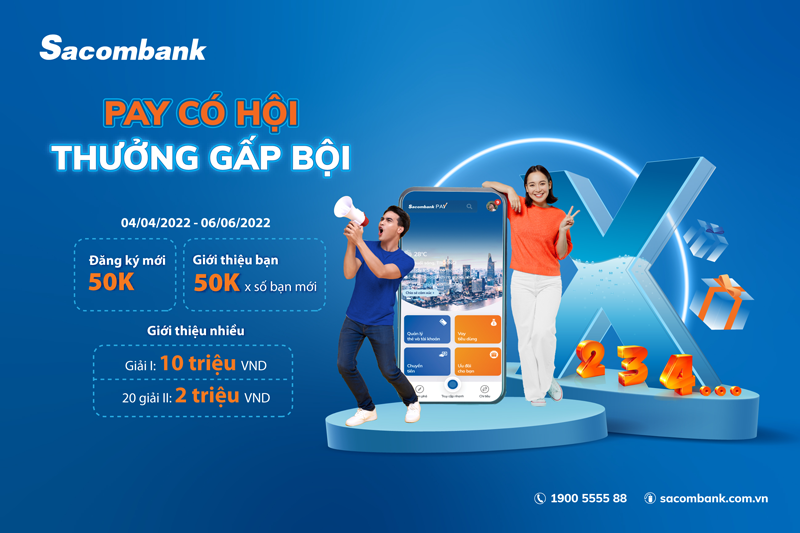 In details, the first daily 500 new users who successfully make mobile top-up will get VND50,000. Each user is rewarded once over the program period.
Existing users will get VND50,000 for every successful referral when introduce a new user to register Sacombank Pay, eKYC and fill in the referral code. The more referrals the more rewards users can get: VND10,000,000 for the user with the highest referrals amount, VND2,000,000 for the next top 20 users.
In addition, Sacombank has been offering the "Online booking" cash back promotions from 15 March 2022 to 15 April 2022. Personal customers will get 50% cash back, maximum VND200,000 on online booking for air ticket, train ticket, coach ticket and hotels via Sacombank mBanking (Mobile Banking) and Sacombank Pay app. Each customer will be refunded once for every service on every app over the promotion period, the refund amount will be credited to customer's account/card/registered Sacombank Pay account.
In advance, from 01 March 2022, Sacombank has implemented the free money transfer program for all personal customers making online transfer via Internet Banking, Mobile Banking and Sacombank Pay app with maximum transfer amount of up to VND10 billion/transaction/day. Sacombank Pay users will be free charged when opening a new account with personalized number, withdrawing cash by scanning QR code at ATM, maintaining the usage of app services and management of app account with no account balance required. Particularly, customers enrolling for Combo 4.0 will be free of debit card issuance and annual fee, auto alert via Sacombank Pay fee and account management fee.