Sacombank to refund 100% Visa Direct Outbound fee
05/04/2022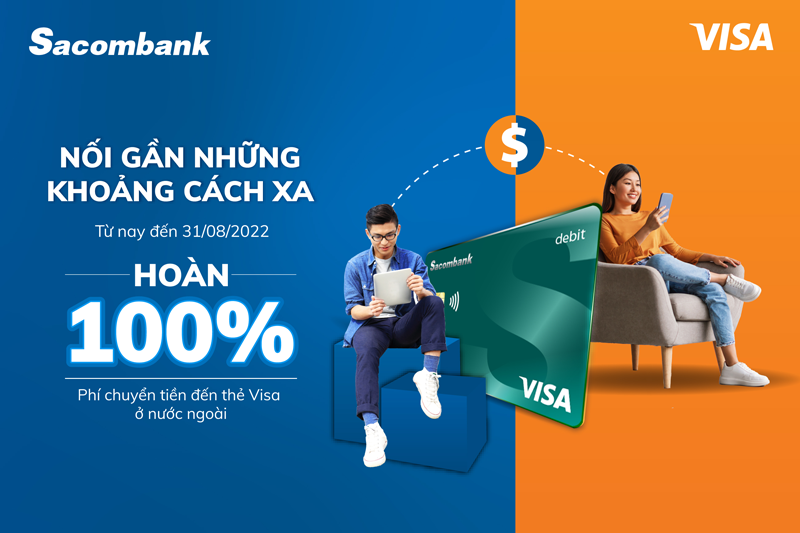 Since the early October 2021, Catering for personal needs of funds transfer for diverse purposes including overseas study, resettlement, providing subsidies to relatives etc., Sacombank in collaboration with Visa Inc. have made Visa Direct Outbound service debut in Vietnam. In details, Sacombank Visa Debit cardholders can transfer money to Visa cards issued by any overseas banks with the transfer amount worth up to USD 8,000 USD per month depending on the purpose with no limit of transfer times and a preferential service fee from VND 100,000 only.
The service is eligible for Visa cards issued in 44 countries consisting of Andorra, Austria, Brunei Darussalam, Bulgaria, Cambodia, Croatia, Cyprus, Czech Republic, Denmark, Estonia, Fiji, Finland, Germany, Greece, Hungary, Indonesia, Israel, Italy, Latvia, Lithuania, Luxembourg, Macau, China, Malaysia, Maldives, Malta, Mongolia, Netherlands, New Zealand, Norway, Philippines, Poland, Portugal, Romania, San Marino, Singapore, Slovakia, Slovenia, Spain, Sri Lanka, Switzerland, Thailand, Turkey, United Kingdom and foreign currencies including USD, AUD, CHF, EUR, GBP, JPY, NZD, SGD, THB.
Before that, Sacombank was also the first bank in Vietnam to launch Moneygram service for free and easy fast overseas inward remittance to Sacombank Visa Debit card. After the sender fulfils the beneficiary's information and Sacombank Visa Debit card number, the beneficiary will receive the money in the card account with a competitive forex exchange rate without any confirmation required. Further information, customer may contact Hotline 1900 5555 88 or +8428 3526 6060; visit sacombank.com.vn; register for cards at http://card.sacombank.com.vn/.